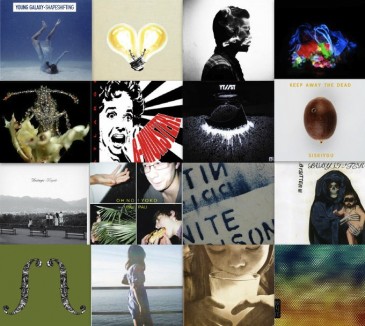 Discorder's contributors sound off on the tunes that made their year.

Shane Scott-Travis (writer/illustrator)
LOCAL: Like a kiss goodbye from a lost Kenneth Anger soundtrack, Dirty Beaches' Badlands runs a nostalgic circuit; one riddled with heartache and haunted by lonely lo-fi phantoms. Alex Zhang Hungtai is a one-man miracle.
NON-LOCAL: tUnE-yArDs' sophomore release WHOKILL wobbily stands without peer. Defying genre classification, this pastiche of art rock, folk, hip-hop, R&B, and everything else in Merrill Garbus' compass, is a pièce de résistance.
Cail Judy (writer)
LOCAL: Sun Wizard – Positively 4th Avenue.
The soundtrack to my summer. All you need is Positively 4th Avenue and a nice steak for a great BBQ.
NON-LOCAL: The Horrible Crowes – Elsie.
Grim soul music from Brian Fallon of the Gaslight Anthem. Front to back, the album is a pitch-perfect blend of Tom Waits and Bruce Springsteen's darker sides, with Fallon's own unique brand added to every song.
Kamil Krawczyk (writer)
LOCAL: B-Monster – At Large.
Fun, rowdy, and non-presumptuous. Pure balls-to- the-wall rock 'n' roll.
NON-LOCAL: M83 – Hurry Up, We're Dreaming.
Both its stunning electronica melodies and soft, down-to-earth compositions make this album highly enjoyable.
Peter Komierowski (illustrator)
LOCAL: I'm going to say that my pick is Young Galaxy's Shapeshifting, with "Peripheral Visionaries" being my favourite track. Dream pop at it's best. [ed. While Young Galaxy is currently based out of Montreal, they formed in Vancouver]
NON-LOCAL: I'm giving the Best out-of-town disc to Gang Gang Dance's Eye Contact.
Sarah Cordingley (CiTR music programmer)
LOCAL: Various Artists – Nite Prison.
An excellent selection of local punks and freaks. All recorded at Nite Prison studios for super cheap, this album features unreleased tracks by some of my favourite local skids.
NON-LOCAL: Yamantaka//Sonic Titan – YT//ST.
A ferocious, unpredictable exploration of ancestry, art, and appropriation. Cleverly self- described as "Noh-wave," this Montreal-and- Toronto-based collective seamlessly combine wildly diverse musical and cultural elements into a cogent and thoughtful masterpiece, from soft, dreamy pop to pummelling skronk.
Steve Louie (RLA editor/photographer)
LOCAL: Aaron Read – Bubble Skulls.
You never know when Aaron's going to play a show. It's kind of rare. Fine. Then he comes out with this little gem on Bandcamp and it just makes me think he's perfecting some little bedroom pop thing. How many times have I listened to "Gold Head?" Probably my favourite local song of the year.
NON-LOCAL: Seapony – Go With Me.
I've been to six Seapony shows this year—so far. Which must mean I really like their debut album Go With Me. My summer soundtrack of the year.
Robert Fougere (writer/photographer)
LOCAL: Babysitter – Tape III.
In just over a year, Babysitter put out five tapes, a single and a split EP. It's very hard to pick a favourite because they all feature Babysitter's signature blend of reverb, distortion and lyri- cal punch, but Tape III resonates with me on a personal level.
NON-LOCAL: Smokey – Smokey.
This seven-track album was released as a limited edition cassette tape just over a year ago, but only recently available for free download from smokeycoon.bandcamp.com. Includes a mind-blowing down-tempo folk cover of Whitney Houston's "Dance With Somebody," reworked here as "danse w/ sumbody."
Sarah Berman (Under Review editor)
LOCAL: MYTHS – MYTHS.
Supercharged electro-noise with a semi- psychotic swagger. First caught them opening for HEALTH and they've been terrifying me ever since. "Deadlights" is basically Alice Glass squared.
NON-LOCAL: Nguzunguzu – The Perfect Lullaby.
A labyrinth of stripped-down loops and beats referencing '90s R&B chart-toppers, Angolan kizomba and zouk in equal measures. Truly the only possible way to enjoy eight hours trapped in a Mozambican airport.
Fraser Dobbs (writer)
LOCAL: Drawn Ship – Low Domestic.
Ex-Portico frontwoman Lyn Heinemann really knows how to write beautiful songs, and as a stripped-down two-piece, she and drummer Gregg Steffensen make excellent use of the minimalist aesthetic. While most of the album is humble, quiet, and intimate, standout tracks "Sick With The Sound" and "Adventure Series" bring serious intensity to a phenomenal record.
NON-LOCAL: This Will Destroy You – Tunnel Blanket.
Okay, maybe not the most obvious choice, but for a band that has constantly decried the "post- rock" title, this is their first record to deliver on a less pigeon-holed sound. Production quality here is what makes Tunnel Blanket such a phenomenal album, as each droning noise crescendo and cymbal crash is perfectly repre- sented. Every audiophile owes it to themselves to put this vinyl on nice and loud, and to drown themselves in the crashing sonic waves.
Jennesia Pedri (writer)
LOCAL: My top choice is Siskiyou's Keep Away The Dead. There's a gothic feel, with just the right amount of folk to it.
NON-LOCAL: My most anticipated and most played non-local disc of 2011 is Ohbijou's Metal Meets. Ever since I saw them live two years ago at a small pub in Toronto, I've been enchanted by Casey Mecija's haunting vocals and the group's masterful relationship to their instruments.
Grace McRae-Okine (President of the Student Executive, Writer)
LOCAL: Destroyer's Kaputt.
It causes eargasms.
NON-LOCAL: tUnE-yArDS – WHOKILL.
This one-person project blew my mind with the video for "Bizness," and the Ad-Rock remix of "Gangsta" sealed the deal. One of my favourites of 2011, hands down.
Hugo Noriega (CiTR sponsorship)
LOCAL: Aaron Read – Bubble Skulls.
With the quirky honesty in its lyricism, the charming inquisitiveness in its soundscapes and a sense of modesty/vulnerability that makes it awkwardly personable, Bubble Skulls is the art-pop substitute for your shy-yet-brilliant childhood best friend.
NON-LOCAL: Long Long Long – A Girl Drinking Orange Juice Feels Acids On The Sides Of Her Tongue. She Also Smells Citric Aromas And Feels The Wetness And Cold (seven-inch).
In just 5 minutes and 57 seconds, the Long Long Long dudes were able to use their jangly guitars, Beach Boys vocals harmonies, and their somewhat linear song structure to portray the dismal hopelessness I have felt since I was the age of 18. "I'm not worried about the future, I'm not sure that it's even real." Me neither.
Nathan Pike (writer)
LOCAL: Aunts & Uncles – Aunts & Uncles.
This five-song debut has everything that makes me happy with music. It's got a quirky, folk-jazz feel, a cheeky punk drive, smart lyrics and a whole gaggle of instruments played by three well-respected and fantastic musicians.
NON-LOCAL: Fucked Up – David Comes To Life.
Part punk rock opera and part concept album, David Comes To Life is a sprawling mass of an album that continues to surprise me with each listen. Huge and multi-layered, dynamic and invigorating.
Brenda Grunau (CiTR station manager)
LOCAL: Oh No! Yoko – Pau Pau.
I'm going to shout out to this band of Abbotsford boys. Their songs are quirky and infectious, and make me grin from ear to ear.
NON-LOCAL: Braids – Native Speaker.
I listened to this album ad nauseum, with toes tapping to the textured layers of voice and rhythm.