"We have strong opinions about everything!" Brenda Grunau wants to make this very clear, "otherwise it'd be boring!" Her radio other-half, Jordie Yow backs her up: "We're both very opinionated about food." As hosts of CiTR's local food and music show, Peanut Butter 'n' Jams, this seems to be part of the job description. The show sets out to provide interviews and reviews of Vancouver's best food and music, meaning candid hosts are essential ingredients.
Luckily, neither Brenda nor Jordie hold back on letting you know their thoughts when it comes to food or drink. In October 2015 Jordie made his opinions on burgers very clear, on air, in an epic 15 minute speech. When asked what else would evoke such strong emotions, chili comes top of the list (to his frustration, he has finished second at a local chili cookoff for the last three years). Similarly, when asked the best place to get sushi in Vancouver, both hosts reply with a split-second answer – Toshi Sushi. These two genuinely do have strong and clear opinions when it comes to food.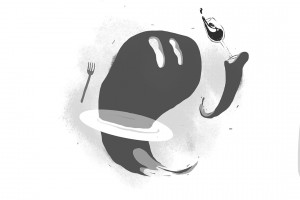 Along with food, PBnJ is proud to play exclusively Vancouver-based musicians. Brenda explains that with the sheer amount of bands in Vancouver, why would they need to look further afield? They are both avid supporters of local music, welcoming homegrown talent. Brenda adds, "Most bands that send their music to the station can get on the radio. It's that easy to get on air." So, if you're looking for a break, PBnJ might just be the place to get your music heard.
The show itself was conceived in 2011. The pair had worked closely together in what Brenda describes as "an easy working relationship" when Jordie was the editor of Discorder (2008-11) and Brenda CiTR station manager (a position she still holds). After collaborating on some fill-ins for other programs, they decided to co-host a show and hunted for a premise until the love of good food and drink won out. A month of brainstorming followed to try to find the best puns to name the show. A "no bad ideas" policy was employed and apparently there is a list of rejected names on pieces of paper hiding in each of their houses, which conveniently cannot be located in time for this interview. But the final product, Peanut Butter 'n' Jams, was a lightbulb moment. It goes toe-to-toe with the most imaginative pun names CiTR boasts: The Soulship Enterprise, Duncan's Donuts, and Kew It Up, to name but a few.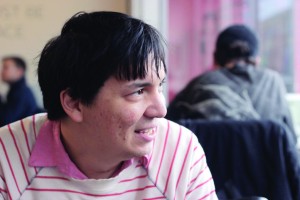 Over the years, PBnJ has managed to nurture a number of close relationships with regular contributors so that even if one of the hosts is away, there are usually two people on air. Al Smith (a member of the band Milk, also featured in this issue) and Kendra Loewen are near the top of the list. Each guest brings with them their own areas of expertise. This, combined with regular interviews, forms PBnJ's "open door policy." Jordie describes it as "a friendly, casual sort of vibe," and it does come across. Brenda and Jordie make you feel as if you're joining them for a drink each time they're on air.
On their first show they were joined by Vancouver food critic Andrew Morrison, editor of Scout Magazine, who taught them the basics of critiquing cuisine. The lesson that stuck with them is the power of a good review. Good press has the influence to change a restaurant's fortunes dramatically. However, this effect has made many of their favourite places a little too successful. After the choka-blok Peaceful Noodles was featured on TV show Diners, Drive Ins & Dives, the restaurant raised their prices. "It's great. They're doing really, really well," laments Jordie, "But sometimes I want a place to do just 'well enough' so I can always get a table and not pay too much money."
It seems that when it comes to music, Peanut Butter 'n' Jams seems to want to share exciting new, local discoveries with its listeners. If they're truly honest though, they'd much rather their favourite restaurants remained underground — their own personal, secret gems. It's tough being foodies.
x
Peanut Butter "n" Jams is on CiTR 101.9FM alternating Thursdays between 6:30-7:30, but archived episodes are available on citr.ca.