"It wasn't ever really a choice, honestly," Michael Red professes over a glass of wine at Café Kathmandu on The Drive speaking to how he first got into music. I'm lucky enough to have caught him despite his busy schedule — he spent the afternoon DJ-ing at Fortune Sound Club, and after our interview he's set to rush off to another performance at the Rio. If his prolific and lengthy career hadn't already made it obvious, Red is someone who keeps himself busy.
Red's passion for music and sound is unquestionable — he fell naturally into DJ-ing at a young age, surrounded by friends with a shared interest in music and amassing a vinyl collection that led him to thinking, "I may as well start trying to mix them." Since that self-described "accident," Red has gone on to participate in a multitude of projects, everything from the dance-heavy DJ collective Lighta! Sound, ambient sound-art project souns, curator for New Forms Festival, and his own record label low indigo, all while playing gigs and making tunes under his own name in Vancouver and beyond. souns' latest release, Ambient A, is ranking high on CiTR's charts this year.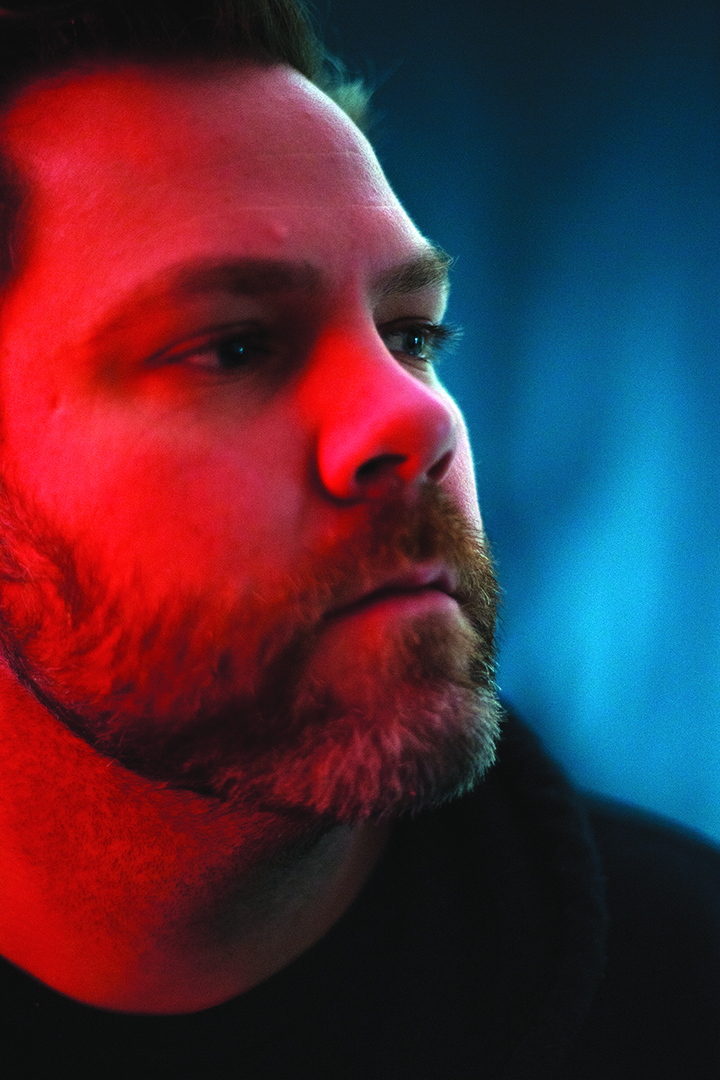 The project currently occupying Red is 9 of cats, an EP coming this March from low indigo, a collection of tracks that fall somewhere in-between the spacey flows of souns and his higher-energy dance projects. It's something he describes as "engaging on a spiritual or cerebral level," aligning itself with the motif of his label. It's not quite 'sound art,' which Red considers to be contextual and statement-making, though it certainly shares some of those qualities. None of it is his typical dance music, either, Red himself is a little hesitant to label it at all, as he regards labels as more of a "necessity" for his work to become known.
Instead, Red uses words and phrases such as "not straightforward," "purposeful," and "bits and pieces of various locations and left-field," to give an idea of what 9 of cats is all about. It is dancefloor friendly, but only in the right context — "it would have to be pretty cerebral or late at night … it's more for conversation, something you actually fully pay attention to."
To add to the sonic ambiances of the EP, Red collaborated with artist Giorgio Magnanensi in an "effortless" process to create visuals for the album. There are swirling neon patterns that gradually shift, taking the viewer through the journey of each track. The day after Red sent Magnanensi the tracks he received a so-called 'test' video, but he thought Magnanensi had already "perfectly" captured the feel of his music.
It isn't surprising that the two worked so well together — both Red and Magnanensi split their time between the Sunshine Coast and Vancouver. After a first failed move to the Sunshine Coast over ten years ago, the failure due to lack of "collected inspiration," Red has now amassed enough of that inspiration to head back. City life winds him up — he uses the Sunshine Coast to "chill out." It's paid off, with 9 of cats coming together in "that shell and quiet" that Red finds when he's away from the city, his mind distanced from gigs and networking.
The EP is intrinsically linked to Years End, a Bandcamp Red has set up to release archival material. "9 of cats is a statement of 'I'm very much active and this is where I'm at now,'" Red clarifies, describing Year's End as something more "personal and intimate," the kind of music he'd play "if someone were to come over to my house." On a whole, the project is "more about the space it's creating for what I have next to make and still acknowledging the value of the stuff that's out there."
This build-up of material is a side effect of Red's longevity and steadfast dedication to participating in and nurturing Vancouver's electronic scene. He oversaw events that were "essential to keeping the scene alive," which paid off, as Red reports how much traction and visibility he has seen artists gaining in recent years. Now he's taken a more hands-off approach, placing well-earned focus on himself as an artist and participant in the scene, as opposed to an organizer.
Red's newfound space and time is already being put to good use, even beyond the 9 of cats EP. Up next are more releases from Chambers, described by Red as "an outlet for another pocket of music I make" in collaboration with local musician and artist Gabriel Saloman. Seattle's Debacle Records is one of several labels that will be releasing new Chambers. While his project with Saloman arose from a fortuitous connection between mutual friends, low indigo's Facebook group has also served as a platform for networking — which, apparently, is the norm for the page. A new label called Subtempo Records will be releasing a souns remix as a result of first connecting with Red over Facebook. The networking and art that can emerge from a simple Facebook group is something that Red is eager to see.
While Red is established in his community, it is obvious that he is still as intent as ever on propelling electronic music forward in whatever way he can. "I like to look for cracks and fill in what's needed for the overall experience," Red says. "I feel like I don't need to fly the flag for any particular sound or movement if other people are flying that flag and providing that, that's great, that gives me opportunity to do something different, because there's always something different."
x
Michael Red will be releasing 9 of cats on low indigo this March. He  has upcoming releases on Modern Math, Babel, Dipped and Aufect.To hear his music and find links to other projects visit michael-red.com or follow him on soundcloud.com/michaelred.