It's late night at Fortune Sound Club and Jay Bagasbas is mixing the club's music in the middle of the dance floor with an iPad. Since it was hard to gauge the sound from the side stage, she took matters into her own hands.
"I like to put a hundred percent into my work," she says, "If I can make it sound better, I'll go out into the crowd and make it sound better."
Fortune is just one of the many venues where Jay has worked as a live sound tech and audio engineer. Between her current job mixing sound for hockey games at Rogers Arena, her former work at the Alexander Gastown and freelance gigs at the Biltmore Cabaret, TED Talks and Pemberton Festival, she's an expert at working behind the scenes of a show to bring the most out of a venue's sound.
"I liked being the ears that listen to the room and control everything," Jay expresses, "working shows and being a part of something bigger and helping someone's sound out, that's very fulfilling."
But Jay is more than an audio engineer — she's also a boxer at the Eastside Boxing Club who teaches women in the community how boxing can foster their self-confidence. Just before our interview, she was teaching a class for teenage girls where she taught them not only about boxing, but also mindfulness and body-positivity. "My part was to talk about body image and what social media is doing in terms of creating a toxic environment for girls and women for how they should look," she explains. "We taught the girls about how to properly eat, [as well as] mindfulness, wellness and the mind-body connection. Then I took them through a boxing workout, which some of them loved because it was good, but I might have pushed them a little too hard," she chuckles.
"There are a couple of girls that I do wanna fight … in the most loving and respectful way."
She's not only bright and ambitious, but also someone who lifts up the people around her with her positivity and generosity. And she's only 22.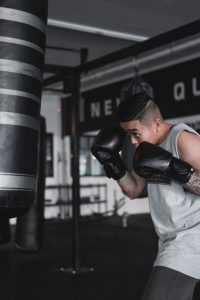 .   . .  . . .  
Jay's audio career began in a "Recording and Sound" class at her Catholic high school, where she set up the sound system for Mass. She then enrolled in the Nimbus School of Recording and Media's audio engineering program and graduated at the top of her class. "I wasn't expecting the award, I'm not gonna lie," she said, "but I guess hard work pays off."
Within her graduating class, Jay was one of two women — an unfortunate reflection of the reality that audio engineering and mixing remain male-dominated fields. While she got along well with her classmates, she had to work hard to gain their respect, which meant spending many late nights in the studio, honing her skills. "There were a couple of times where I did have to prove myself and my abilities, but by the end of it, everyone was family. We all had a good time with the time we spent together."
Of all the venues she's mixed at since graduating from Nimbus, Jay's particularly fond of her time as a sound tech at the Alexander Gastown, where she worked the sound for artists such as BJ the Chicago Kid, Jessie Reyes, JMSN, Del the Funky Homosapien, Busdriver and a variety of local bands. It was there that she reunited with an old family friend who suggested she try boxing at the Eastside Boxing Club. She quickly got hooked.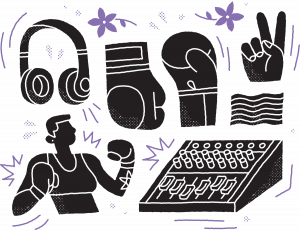 For Jay, boxing is a much-needed way to release pent-up anger. "I was a very angry person, and I never had an outlet for it. I always used to lash out on whoever I was dating or my parents, but ever since I started boxing it's been a healthy way to get rid of it. Now it's like a self care thing for me."
Since the gym has been so helpful for her, she's dedicated herself to giving back. In 2018, she participated in a charity boxing fight for the Eastside Boxing Club at the Commodore Ballroom, where she raised over $2,500 for the their at-risk women and youth programs. "The gym has done a lot for me, personally… I'd show up to the gym, absolutely quiet and drained and exhausted, and they'd pick me up and check in on me. There are a couple of mother figures there that I am super super thankful and grateful for, and they're the main reason I want to give back. Plus the kids are our future."
Jay currently has a concussion — it's her fifth one in total — so she spends more of her time at the gym teaching and training rather than fighting. However, when reflecting on the fight at the Commodore, she gets nostalgic and knows she'll return to the ring.
"The feelings and the emotions and the training that goes towards this one fight is amazing, fulfilling and satisfying," she says, "I want more. And there are a couple of girls that I do wanna fight."
"You wanna beat 'em up," I quip.
"Yeah, in the most loving and respectful way."
.   . .  . . .  
Jay's made great strides in her career, but she has greater ambitions. She hopes to one day tour with a professional recording artist, become a certified boxing coach, and release music of her own. She also wants better for the female sound techs of the world. Being a female sound engineer, she says, means that you're often micromanaged and untrusted by the men around you, who were likely expecting another male in the position to begin with.
Thanks to her own self-confidence and her network of sound techs and venues who know she excels at what she does, Jay punches right through these double standards.
"I hope that one day we can get past that gender norm — you know, that the sound person has to be a sound guy — because the best techs in the world that I follow are women and there's obviously something to learn from that," she says. 
"I don't want to say we're better, but we're definitely more organized and on top of more of our shit."