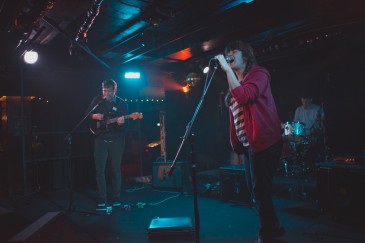 Much like bumping into an old friend from school or work after hours, Julie Doiron's recent appearance at the Biltmore had the feeling of a reunion with someone you like being around very much but don't really know that well — at least, that was this reviewer's impression, whose familiarity with Doiron's post-Eric's Trip solo career revolves for the most part around a handful of singles from Woke Myself Up and I Can Wonder What You Did With Your Day.
That being said, Doiron's February 17 appearance, in support of a yet-to-be-announced release, was a solid introduction to her live show for yours truly. A gathering of kindred spirits, the show was carried equally by supporters Knife Pleats and Jon Mckiel as by the veteran Sackvillian herself.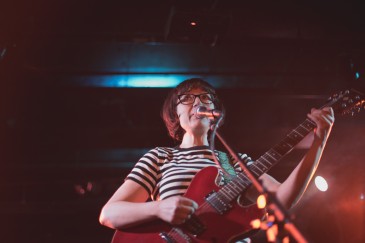 "You'll notice Julie and I are wearing identical outfits," openers Knife Pleats's striped-shirted frontwoman Rose Melberg said as the band took the stage. There are more ways they're similar: renowned internationally for her work in a spate of West Coast indie pop bands, beginning with Tiger Trap and the Softies, Melberg is a fixture in her own right. Bassist Tracey Vath and rhythm guitarist Kaity McWhinney of Love Cuts fill out Knife Pleats's lineup, along with drummer Gregor Phillips.  
Like a nice basket of fish and chips by the seaside, Knife Pleats were easy-going yet hearty, a great start to the night. Melberg's voice rang clearly through the mix, while Vath's ebullient manner complemented the steady, skiffly pop rhythms she and her bandmates put out during Knife Pleats' set — the longest ever played by the band, Melberg said before signing off with a cover of The Chills' "Never Never Go."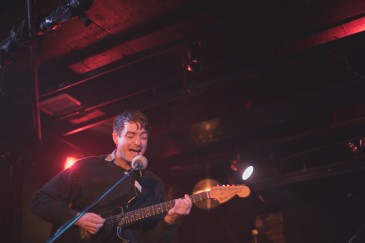 Next up was ex-Haligonian (by way of Amherst, NS) Jon Mckiel, playing songs off his self-titled EP from last year, backed by a couple of locals: Evan McDowell on bass and Jay Arner on drums. Taking after East Coast contemporaries like Cousins, Mckiel's latest material is a smidge tougher than, say, his folky debut The Nature of Things. Yet there was a sweetness to the herky-jerk rhythms of Mckiel and McDowell and Arner's solid drumming, especially when Julie Doiron sung backup vocals for a couple of songs, as she hopped on stage to help out the recent Sackville transplant with the first song of the set and popped back in for the last one too. 
Having seen that, and most of Doiron's own set, it's easy to see why some call her the "Mayor of Sackville." In what was perhaps her first all-request show, Doiron showed off the versatility of her songwriting, beginning her set in a more contemplative vein before picking things up for a time with uptempo renditions of "Woke Myself Up" and "Consolation Prize," with a smile in her voice and riffs electric. Paying things forward, Jon Mckiel backed her up on drums on a number of songs during Doiron's set.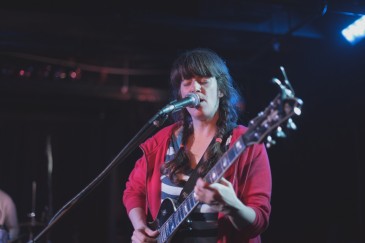 The audience had Doiron's back too. Later in her set, the crowd hung on as she asked if anyone knew the last verse to "Spill Yer Lungs," a song that she'd never played on request before. You could almost imagine some notes were being passed to the stage as Doiron slowly worked out how the song actually went. Finally: applause, nary a heckler in earshot. 
A heartwarming sight, as was the night itself.