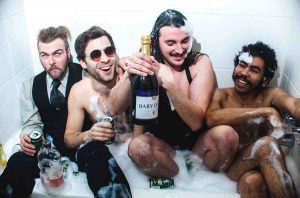 "I thought I was going to get kicked out of the band," admits BRASS frontman Devon Motz.
We're sitting in Motz's apartment on a blustery January evening, along with guitarist  Tristan Milne and bass player Zak Garrett. It's difficult to nail down an evening with all members in town, a running theme with the band, so drummer Rory Troughton isn't present. He is mercilessly made fun of.
A year ago the future of BRASS was in  serious doubt  when Motz announced he was going away for several months to Australia.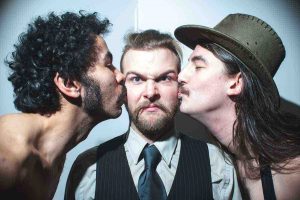 "It's hard to be a band when a member isn't there," says Milne, on Motz's departure, "it's hard to make the same commitment."
BRASS was faced with a tough decision: burn out, or fade away. But even though it was a tough choice, it wasn't really a choice at all.
"Those four months before Devon left, we just went for broke," says Milne. "We overplayed the shit out of Vancouver." BRASS released their self-titled four-song EP in January to get something (anything) out there. With the fire lit under their asses, they made a name for themselves as reckless and rowdy performers. During their last show before Motz's departure, Milne smashed his guitar to pieces on a concrete floor; Motz claims it was "the best guitar smash" he'd ever seen.
"We had less than six months of last year to actually do stuff like jam, write, or play shows," says Milne.
With their vocalist on a different continent, the other BRASS members made the choice to dig in their heels. They wrote songs and sent demo recordings to Motz, who then wrote most of the lyrics while rambling and rolling around Down Under.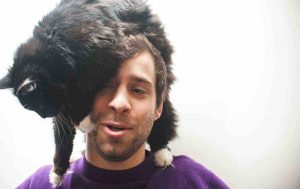 As soon as Motz returned from his walkabout, the band began playing shows again, the very first being a last-second Music Waste appearance.
"It was weird. It wasn't the crowd we were used to y'know? They didn't throw beer cans and stuff at us," says Garrett.
Motz adds,"Yeah, a friend said it was the most precise they'd seen us play. And the most boring!"
This is in stark contrast to BRASS's official return show, not a week later. On a weekend night at the Astoria and promoted by Art Signified, the roster was stacked. It was a recipe for debauchery.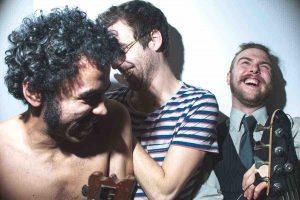 "I feared for my life," says Garrett. It was an auspicious night.
"That first show back really made me think, " says Milne, "we're there to entertain. I want to fly around, and enjoy the songs. Everyone is there to have the most fun they can have in a short amount of time. A lot of people have the attitude of 'Well, I can't go too wild' and no, man. You literally can't go too wild at a BRASS show."
Motz sips his beer and thinks for a moment. "That's the thing, I don't want to sound pompous. People know we are fun to watch live, but I know lots of people doubted that we'd be able to make a good record."
Despite all the complications along the way, BRASS's debut album No Soap Radio is exactly that: a damn good record. One that shows growth and maturity from the band, without sacrificing any of the punk-rock sneer found on their EP. And thanks to producer Jesse Gander, it sounds amazing.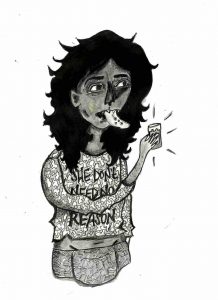 "It was the best recording experience of my life," says Milne. "The record sounds like excess. It's all high velocity and unsustainable."
"My favourite track is 'Steal of a Deal.' I wrote the riff when I was in a weird headspace, not working, living off a meagre amount of money, I was all fucked up," says Garrett. "That song basically sums up how I felt at the time."
"There's a song called 'Talking Like a Idiot,'" says Motz, "it's about cops, but it's also about keyboard warriors. That fucking 'I know everything about everything because I read it on a BuzzFeed article' attitude. Just because people have opposing opinions, doesn't mean either of them is right."
I ask what memory stood out the most from their recording session, and Garrett bursts out laughing immediately.
"On the way to the studio, we were going to listen to a CD, and I was rooting through this booklet and I found what I thought was the White Stripes," Garrett explains, "you know that red and white swirl album? Well, I put it on, and it was Katy Perry. We laughed so hard and just blasted it the whole way there. That sort of set the precedent to the recording: if it's poppy but rad, then fuck it, y'know?" The other guys are in stitches at the memory.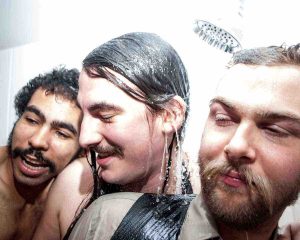 I'm sorry to say that there isn't much Katy Perry influence shining through on the album, but it is catchy, hooky, fun, and shit-kickingly rad. I ask if they have any final thoughts on the record.
"It leaves people with a feeling that there is going to be more," says Milne, "more BRASS records coming down the pipeline."
Make sure to keep an eye out for No Soap Radio, out on vinyl and digital download this spring.