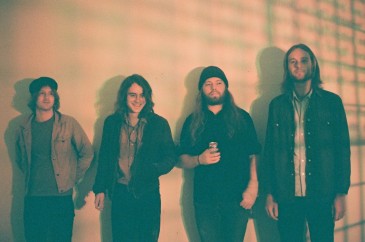 "There's something special about feeling connected to the past and present through music."
After opening for an array of revered acts — including the Growlers, the Night Beats, and Wooden Shjips — Vancouver's most '70s induced psych-four-piece, Hallow Moon, are paving a lush road to acclaim.
Their shows are like murky reveries of long haired sways and ruminating sound waves, alluring the attention of folk/dream pop lovers of the West Coast. Discorder recently sat down with Randy Kramer (bass/vocals), Dan Ross (guitar/vocals), Colin Jones (drums), and Craig Mechler (guitar/vocals) in the smudgy charm of their jam space to discuss songwriting, favourite candies, and their blossoming romance with music.

Who do you liken yourselves to? Who are your influences?
Ross: We hope other people do that for us. We don't really liken ourselves to anyone; we just like music.
Mechler: We're big fans of how the Beatles put songs together. They're definitely a band to strive towards. They almost make you feel dumb after listening for a while because they put so much attention and care into each song. You can't try to sound like another band though — you have to do your own thing.
Jones: Otherwise, you're just going to make a bad version of what they already did.
We think you sound like Tame Impala.
Mechler: That's good. They're so good and young. They're the first band I fell in love with who weren't from the past. They just hit everything right.
Tell us about your process for making music.
Mechler: Sometimes we write individually and show each other for input. All of us enjoy the process of recording. We did the last one at Colin's place with our friend JP; Randy played a big part as well because he went to school for recording and is pretty much a sound technician.
Jones: There are so many different elements to the processes of both playing and recording. Rather than go to a big studio and pay someone to do everything for us, we took it into our own hands and let the songs evolve naturally.
Ross: We've had problems at studios before with time constraints and such.
Mechler: We've tried going to record really late at night but it almost drives you insane. There's nowhere to go. Over the summer we recorded at Colin's place during the day and drank beers on the porch.
Kramer: It's interesting to see how things come together during the process and how the songs develop from before to after. You learn a lot from the process of recording and you get a chance to really dig into a song. Sometimes I bring in elements from elsewhere or from what I like musically. We all add to each other's taste.
Ross: I was in more of a rock and roll band when I was younger. The music was important but we really liked to party and our shows consisted mostly of that — not exactly like Hallow Moon, where we savor the process itself.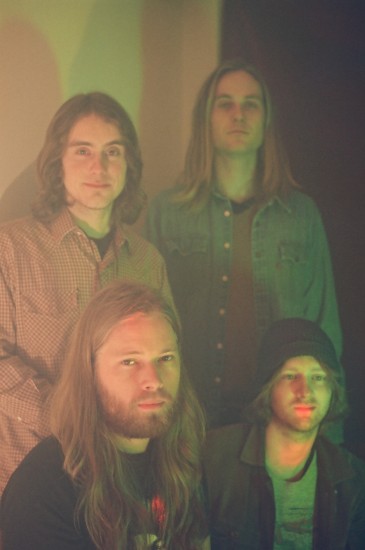 Is there a common theme carried throughout in your music?
Kramer: Sometimes a song makes its own meaning after we put it together; other times I write it like prose, like a short story.
Mechler: They usually sprout from something bothering me about society… or just upset about something in general. I finally get all the words out, meditate on it, and sometimes the song ends up having a different meaning in the end.
Name a band that made you take music seriously. What's a band now that you look to for inspiration?
Ross: The first bands I was inspired by were Black Sabbath and Nirvana. Nirvana's easy songs, just power chords and lyrics with really thought out catchy melodies. Black Sabbath was just awesome. Lately, I've been listening to Cass McCombs 'cause he's an amazing songwriter.
Kramer: Led Zeppelin. I was going through my Dad's record collection. I was about 16, and I got a record player for my birthday. I laid down in my bed, just plugged in the headphones and put on what I think was Led Zeppelin One. It's like the best record ever made. I was like, "This is amazing." Now I listen to a lot of Cass McCombs too. There's something special about feeling connected to the past and present through music. It makes you feel like you're part of a stream of people who lived before you.
Mechler: My birthday is around Record Store Day, so Dan got me a sweet gift: a record by Townes Van Zandt. I was playing music already, but I hadn't heard of him. He's such a thoughtful songwriter and that really changed the way I play and changed me as a person too. I started drinking a lot more wine after that. Nowadays, I listen to a lot of Cass McCombs too. He's a lot like Van Zandt. He puts a lot of thought into his lyrics where he just writes about a lot of things that piss him off about society — and does it in a way that's groovy.
Jones: The first time I heard rock music was Goat's Head Soup by the Rolling Stones. My uncle Carl gave me a cassette player and the tape when I was six or seven. I listened to it over and over again. Today I was listening to Fela Kuti, this Nigerian guy who plays danceable, sometimes jazzy afro-beat.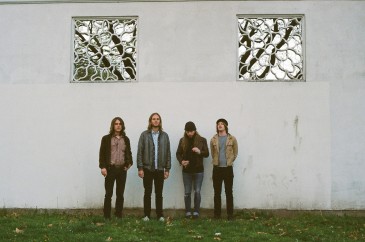 What does the future hold for Hallow Moon?
Jones: We spent so long sitting on this record so we'd like to make another record soon. We have quite a few more songs now.
Kramer: It would be cool to tour to California at some point.
Ross: Pretty much we just really like playing music together and we're friends, which makes it easier and more fun.
Mechler: I think the fact that we're friends compliments the music. It's easier to bounce ideas off of each other. We want to have fun with it while it lasts.
And lastly, what is your favourite candy?
Jones: Licorice.
Mechler: Chocolate-covered raisins.
Kramer: I guess I'm a Skittles kind-of guy
Ross: I don't really eat candy.