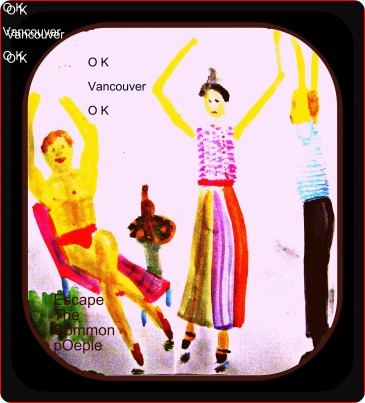 Escape the Common People is the most recent full-length release of the prolific Jeffrey Mark Johnson's project, Ok Vancouver Ok. If you haven't heard this eclectic artist, Escape is an excellent point of entry. Its dreamy, lo-fi sound comes from having been recorded onto audio cassette with a Tascam 4-track that was a gift—according to the record sleeve—and was mixed and mastered by the Hive Creative Lab's Jesse Gander, who has also worked with an eclectic collection of artists including Japandroids, Dixie's Death Pool, Ahna, and the Pack A.D.
There are a number of reasons why this album isn't just cool, but also representative of a cultural movement. It's a prime example of the idiosyncrasies that can manifest themselves through a d.i.y. avenue free of label influence. Besides being available for digital download, there is also a run of 220 LPs, all of which have unique covers, hand-painted by Johnson himself. The absence of polished, high-def studio production gives Escape the personal warmth and friendly intimacy of a house show.

Furthermore, the album's message is actually sincere, but not self-righteous. This is apparent right from the first song, "Tests," in which Johnson sings, "Thank you farmers! / For saving seeds to feed you and me." The fourth track, "Nature," emphasizes this in a funky soap-box preacher manifesto about the relationship between capitalism, poverty, and the diminished availability of fresh, healthy food.
Altogether, Escape the Common People is a whimsical, intelligent, and enjoyable listen; it might be rough around the edges for some, but it has the soul to win over a loyal following.