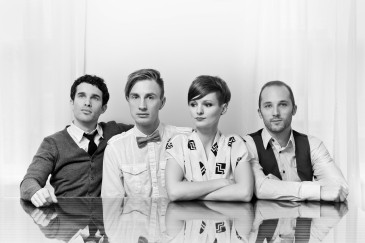 About 10:02 a.m., Andrew Braun answers his phone: "Hello?" He's sitting on the couch in his North Van living room wearing a Protest the Hero t-shirt, a pair of black jeans, and a cardigan. A few blocks away, I'm sitting in my living room with Braun on speaker phone — until now we hadn't realized we're practically neighbours. We make small talk about the neighbourhood, compare experiences commuting and laugh about the number of times we've been stranded at Phibbs Exchange waiting for the #212. Then I say, "So you must be excited about the album."
Rococode does not seem the least bit nervous about their anticipated debut LP, Guns, Sex & Glory. "It's been a long time coming," guitarist/vocalist Braun admits. The album, which came out on February 7, has been ready for a year, but the group — Braun, vocalist/keyboardist Laura Smith, bassist Shaun Huberts and drummer Johnny Andrews — have been waiting for the right time, he explains, waiting diligently for their hard work to pay off.

Throughout the last year, the indie pop-rock quartet have toured almost all of Canada, including a week's worth of dates opening for Mother Mother. But their list of accolades doesn't stop there—the four are like the dream-team of the Vancouver music scene. Having spent years performing with Tegan & Sara, Hannah Georgas, Said the Whale and Dan Mangan, their resumes collectively read like a who's who of the Canadian music scene. Clearly, the foursome are no strangers to being on the road and performing live; this time though, the stage will be all theirs.
Smith, Braun, Huberts and Andrews came together as Rococode over a year ago, but there was one last person that came in to complete the equation: Mother Mother frontman Ryan Guldemond. A chance encounter with the fellow scene vet outside a Vancouver recording studio had Guldemond jump on board as co-producer, helping re-build the existing tracks. Braun graciously credits Guldemond for helping tweak the group's sound, "I think a lot of people can hear that for sure; the Mother Mother comparison comes up a lot."
Certainly lines can be drawn between the up-tempo tracks, quirky hooks and layered vocals characteristic of Mother Mother's most recent album Eureka. Influences aside, the mission for Guns, Sex & Glory was to take traditional ideas and mess with those templates. The resulting songs are essentially very simple, with "the occasional music school nerd moment."
"We took every opportunity to bend something or add a weird sounding guitar instead of conventional sounds," Braun allows. "I hope that was a mission we accomplished."
The group masterfully challenges expectations by juxtaposing sweet melodies and up-beat tempos with oddities, including a subtle drum beat that sounds like a door knock, the unusual sounding guitar chords that flood "Empire," and the transition from soft cello to gunfire that appears on the album's title track. Meanwhile, the dueling boy-girl vocals throughout give the full-length its rock/pop split-personality.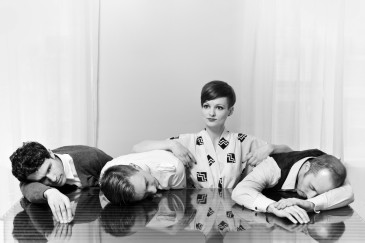 Of his bandmates, Braun says Smith is exceptionally great at being the business person in the band. When Braun was writing songs in his basement, Smith was making calls and booking studios. Huberts is the creative jack-of-all-trades, "writing books, making videos, taking photos, playing bass." Braun describes Andrews as the quintessential drummer, known for playing only in flip-flops and "keeping a monkey in his bass drum." "He's a quirky guy and a fantastic drummer," the guitarist confirms.
"What about you?" I ask. "I'm kind of umm….I don't know…" I hear a small voice offer a suggestion in the background, then Braun tries again. "I'm sort of the director of this project. I run the rehearsals, I make sure people are doing things they should be doing."
It's quiet for a moment, then I hear the tiny voice again, "Hi," Smith says. Her voice is so sweet it's hard to believe it's the same sultry voice that belts the powerful chorus on highlight "Death of a Payphone." After a quick chat and a "Nice to talk to you!" her voice quickly vanishes.
It's now 11:08 am. The whole of Guns, Sex & Glory, which quitely scored the conversation, has now officially reached an impressive 25 full cycles on my iTunes play count. Braun is now telling me that Rococode is ready to head back out on tour, which kicks off next month with two Vancouver shows. It's been a year of careful preparation, but with the LP's release date and a tour schedule looming, the group is ready to wrap up the waiting game. "Playing music together is kind of like the therapy at the end of all the other crap," he says.
————————————————————————-
Rococode plays both Cafe Deux Soleils and the CBC Toque Sessions on February 17th.
To listen to Guns, Sex & Glory, visit their Bandcamp page.
For a lot more info, including photos and videos, visit their website.