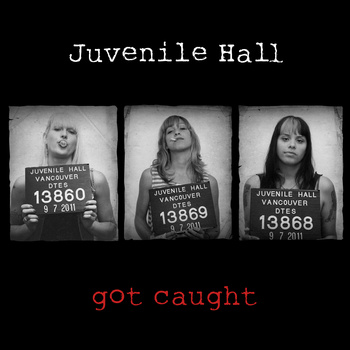 Juvenile Hall's Got Caught first entered the CiTR charts in the number 2 position—and for good reason. The second release from the Vancouver trio picks up where their debut seven-inch left off, making for a hard hitting affair with some serious attitude. When Juvenile Hall first tested the relationship between amps and speakers, the girls suggested we should "Eat Shit and Die," all the while loosely interpreting the idea of musical timing. Their raw energy and spirit was instantly endearing.

On their second EP, Juvie successfully compete with any other tunes that might be vying for air time in your inner ethos. Maintaining some of that gorgeous in-your-face energy with a healthy dose of refinement, the group have crafted three songs which are absolute diamonds in the rough.
From the opening seconds of Got Caught, it is clear the girls like it fast, heavy and catchy. There is nothing innately difficult with their songs. The band prefers to use a minimum amount of chords to convey their punk poetry, and they do it well. "Doctor Says" flirts with substance abuse — or is it substance under-use? — but the frantic jabs of Sadie Olchewski's guitar, not to mention its great chorus hook, make it a highlight. The girls invite us all to a "House Party" on the second track, continuing their tradition of letting loose and making music suitable for any get together involving a potential whiplash. "Magazine Collage" offers a social commentary on fake women created by the fashion media while Juvenile Hall demonstrates an unorthodox beauty themselves by smashing their cymbals with relentless passion.
Hurried, raw and minimal, Got Caught's growth is obvious.