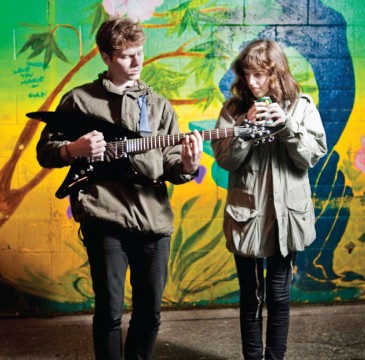 In the summer of 2008, Mac DeMarco finished high school in his hometown of Edmonton, promptly packed his bags and headed west to Vancouver. "I don't really know why I came," he laughs. "Edmonton's just really cold." He points out that just a few days ago, it was actually the second coldest place on earth, behind somewhere in Siberia. "And the place in Siberia is, like, a weather post, so that doesn't really even count."
It seems fitting then that when young DeMarco came to Vancouver seeking the glorious West Coast summer, one of the first things he did upon arrival was to record a song called "Heat Wave!" That song became the title track of Makeout Videotape's first release, and soon all 500 copies of the self-released EP were sold out. "When I first moved here, I lived in Killarney, way out in south East Van," DeMarco explains. "And I had a garage and I lived in a weird Vietnamese neighbourhood. I had lived here for three months or something, I didn't have any music friends, worked at a shitty Starbucks on East 49th. I was like 'Well, I'm not doing anything else. I might as well record a CD.'" Sheepishly, but with utter sincerity, DeMarco adds, "I'm glad people seem to like it." That's Mac DeMarco: self-effacing yet confident, funny yet candid. And he really is a hell of a songwriter.
Despite DeMarco's insistence that he doesn't think Makeout Videotape sounds like garage pop, "Heat Wave!" is a great collection of pop songs that literally sounds like it was recorded in a garage (because, of course, it was). Makeout Videotape's songs are charming, catchy, jangly gems with melodies and hooks as strong as any in your parents' '60s pop songs, just drenched in distortion and fuzz. When you hear the "oooh oooh oooh"s on the title track, it's hard not to fall in love at first listen. If it's possible to have a crush on a band, it seems like Makeout Videotape is that band for a lot of people. This is true in Vancouver and, increasingly, elsewhere as well, largely because of their youthful enthusiasm and sheer likeability. Of course, it also helps that DeMarco has demonstrated such a strong songwriting sensibility, as well as an incredible knack for getting a rich, warm sound out of nothing more than a fuzzed-out electric guitar and a two-piece drum "set" (just a floor tom and a snare, which interchanging drummers Alex Calder and Jenn Clement play while standing).
Over a few beers at the Japantown loft where DeMarco now lives with a few friends, he and bandmate Clement discussed the relatively brief history and exciting future of Makeout Videotape. Later that same evening, they were heading out together to see Clement's cousins, Tegan and Sara Quin, play the second of two consecutive sold-out nights at the Orpheum. However, this was a special occasion Clement explained, giggling: "It's my aunt's birthday, and there's going to be birthday cake backstage." During the show, Tegan & Sara sang "Happy Birthday" to their mother as DeMarco and Clement sat by her side. "It was a wild ride," DeMarco commented afterwards.
Clement grew up in Calgary along with her older cousins the sisters Quin. About a year ago, she formed a punk band called Puberty with a couple of girls, and it was when Puberty toured to Vancouver that Clement met DeMarco. She's now living in Vancouver, attending Vancouver Film School and sharing the drumming duties in Makeout Videotape with Alex Calder, a friend of DeMarco's from back in Edmonton.
Explaining how things progressed from Edmonton to a Killarney garage to the next step, DeMarco makes getting hooked up with a record label sound so simple it's kind of funny. "I met Edo [Van Breemen, manager of Unfamiliar Records] on the street, and I was like 'Hey, man, you should come to my show tomorrow.'" Van Breemen was impressed enough that, after the show, he approached DeMarco to ask him to play a party at his parents' house the next night.
"So, okay," DeMarco recounts. "We showed up [at the house party the next night] and there was this two-piece instrumental ambient noise band playing. It felt really weird, really mellow. Just a guitar and a cello, everyone was sitting down and there were candles. But then we played, and everybody took their shirts off, and we had a great time. The next day I woke up at Edo's parents' place after this party and I was really hungover. I just said to him, 'I wanna go on tour,' and he was, like, 'Well, okay. Go with Japandroids.'" The resulting Canada-US tour supporting Japandroids (also on Unfamiliar Records) proved to be an inimitable experience for the young duo, DeMarco and Calder. "Brian [King] and Dave [Prowse] are great guys!" exclaims DeMarco. "They just love drinking. And we love drinking! So we knew we'd be best friends."
DeMarco was noticeably eager to tell stories from the fall tour. Peppered with lots of giggles and the occasional belch, DeMarco enthusiastically rattled off one great anecdote after another. There was the transsexual's birthday party in Winnipeg; shotgunning beers onstage with the Japandroids boys, drawing the wrath of the venue owner; playing the Mercury Lounge in Manhattan on the same stage that has hosted such NYC icons as Tony Bennett, Lou Reed and the Strokes. There was the night when the official Makeout Videotape tour vehicle (Mrs. DeMarco's Dodge Neon) broke down in Sault Ste. Marie. They didn't know a soul and the only thing that saved them from spending the night sleeping in the freezing outdoors was meeting a friendly music fan at the mechanic and bonding over their love of a certain '90s Vancouver pop-punk group (Clement interjected: "Gob brings people together!"). "I hope the next tour is that crazy!" DeMarco laughed.
The next tour is in fact coming up soon. Feb. 19th, DeMarco and Calder hit the road again, cutting a similar route through Canada and the US, travelling with Van Breemen's own excellent band Brasstronaut for part of the trip, and then with RatTail, a young Toronto band and new addition to the Unfamiliar family. Before they leave town, though, these sweethearts will celebrate Valentine's Day at the Biltmore for a special edition of my!gay!husband!'s Glory Days on Feb. 13, sharing a great double bill with Sun Wizard. Makeout Videotape's first Unfamiliar release, a new 7" (according to DeMarco titled either "Weird Meets" or "Weird Meats"—he's not sure which yet) will "hopefully" be available at the show. From there, the plan is to release a fulllength 12" from Unfamiliar in the summer.
A heat wave is a fleeting, temporary phenomenon. Most crushes flicker and fade away. DeMarco, Clement and Calder won't be kids forever, and it seems very possible that Makeout Videotape won't be Vancouver's own little secret much longer either. But one can hope that for as long as Makeout Videotape is playing shows and making records, they'll always keep the sense of adventure, fun and enthusiasm that they have right at this moment.