"Sometimes I don't realize how hard I hustle," Kim Villagante told me. As soul singer / rapper Kimmortal, Villagante has boldly pushed herself outward through her music and racked up an awe-inspiring number of accomplishments in the past two years, including the release of her debut album Sincerity and opening for Shad at the Vancouver Mural Festival last summer.
Villagante is like a rough diamond, presently a humble and esoteric existence, but on her way to dazzling the world. And unlike lab diamonds that have been engineered to perfection in a short amount of time, Villagante has taken the time and pains to get where she is today. Sincerity, released November 28, 2014, was preceded by five to six years of writing songs, playing guitar, and performing at open mics. Her lyrics, written in private moments of struggle, were made public by her determination to be honest and vocal about her truth. She relayed that her friends have said she "should have expected" her growing success, but in her presence I come to understand that she's more concerned about the journey than the destination.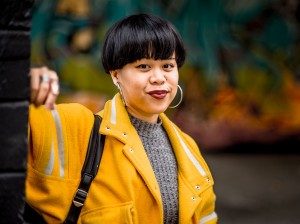 Five years ago, Villagante joined a hip hop dance crew in her third year at the University of British Columbia. Committing herself to regular practice and the strive for "perfection and synchronicity," as she put it, somehow veiled her vision: she "felt like something in [her] was not seeing fully." However, during that period she was also performing at open mics, and she fell deep into that "realm of constant conversations" where she was able to step outside her body and discuss her poetry and logophilia.
Now she's able to call herself a singer, rapper, actress, emcee, illustrator, animator, poet and director. The number of titles in the aforementioned list might suggest that her potential could be limited by the ambiguity laced in the phrase "Jack of all trades," but this Jill not only has the tools to polish the many facets of her art and music career, she has the motivation. "There's definitely a need for me to represent as a queer woman of colour in hip hop," Villagante said with conviction.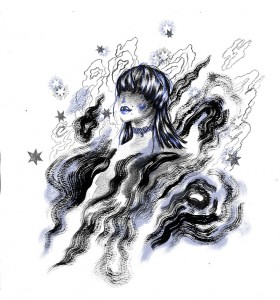 Villagante was born and raised in Canada to immigrant parents hailing from the Philippines (which is a circumstance we share with various Asian Canadians, although I was born in Canada and raised in Singapore). Seven years ago, Villagante took a trip to her motherland with her sister, but had not yet realized the significance of her being a Filipina. She explained that it was through the Coast Salish community and her Indigenous friends that she learned to take "the dive into exploring [her] culture" because of the relatable experience of being, in one form or another, detached from one's homeland.
I admitted to Villagante that I, too, had not realized the significance of my being half-Korean because I grew up in a predominantly Chinese society and so only recognized my half-Chinese side. It wasn't until K-pop gained popularity that I began to acknowledge the fact that I was half-Korean. This whole other culture stood behind me, waiting, as hers did. Once she opened up to learning about her ancient roots and histories, Villagante's lyricism and art were not spared an effect. And now, as Villagante pointed out, "We're continuing this legacy even though we're on the other side of the world. It follows us."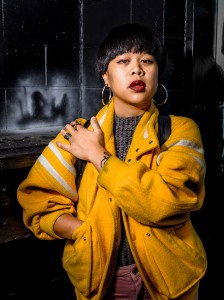 Heightening the pride I was beginning to feel for my cultures, Villagante then informed me about Kat Norris, one her favourite activist poets. "She said one of the biggest blessings in her life is how her culture has taught her how to feel and how to get through tough times. That spoke to me because despite pain and intergenerational sadness, deep sadness, there's so much that we can also gather from our cultures to lift us. We are rising and we are here and still resilient because of how much is behind us," asserted Villagante.
It became clear why, after one of her performances in the hip hop theatre production Sal Capone: the Lamentable Tragedy of, there were a few Filipinos that approached her to express their happiness in seeing her on stage. Villagante reflected, "I know how it feels too to see someone that looks like me on stage. I get really happy."
When Villagante returns to the Philippines one day, she said it's "gonna be something else." But right now, she's busy conceptualizing and editing films, and working on a second album that she hopes to release in the fall of 2017.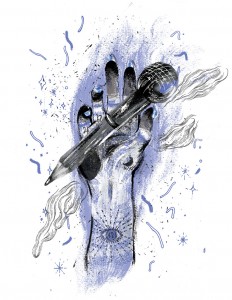 The concept for her second album is still in a state of flux, but she has so far maintained that there will be a drawing for every song. It will deviate from Sincerity as she takes her music to an electronic / hip hop / soul / rap level, but the core of her work — founded in sincerity, honesty and ownership of her truth — will remain, as well as the fluidity of her sound. The act of alternating between singing and rapping is eased by her disciplined writing practice, but while she has a natural ability to bring her poetry and lyrics into the art of rap, she's not likely to give up singing.
Villagante explained that it was her start as a singer that allowed her to "go off on tangents" and achieve more depth with her audience. She observed that often people don't quite catch what's being rapped. With song, she's able to slow the pace of her music and bring attention to her lyrics. "[There's] a lot of variation and range that I can experiment with when I'm on stage … It's different with every crowd. I really feel it out," said Villagante.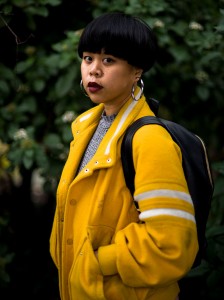 Not only does she have to apply her adaptability to the stages of the music world, Villagante also has to adapt to the different stages presented to her by her roles as an emcee and a young thespian. She explained that her role as an emcee entails "hyping a crowd, gathering people, [and] giving energy,"  with the hope of providing insight. However, as a theatre actress, she gained insight and learned how to "commit to [her] emotions … [and] just enjoy every moment on stage." Her love of teamwork in the theatre bred an epiphany that showed her what "true collaboration" meant, which she in turn elaborated on: "When I was in that team I felt really listened to and … treasured, just as much as I listen to others and treasure them." Obtaining such mutual respect is a hard-earned feeling, but it's undoubtedly one that Villagante practices on every stage.
In order to fund her art and music, Villagante hosts workshops for youth. She utilizes art spaces to talk about anti-oppression and facilitate creative collaboration. "I'm having tough conversations with youth around difficult subjects that are not usually talked about in a school setting, like racism, homophobia, transphobia, [and] sexism," Villagante described. Further, unlike a school setting, these workshops aren't standardized. In the same spirit as her performances, Villagante adapts to the group. "The great thing about doing workshops with organizations is that they allow me that freedom to really go where the youth want to go," she said with some satisfaction. She's led a range of workshops, from beat-making to discussing local Indigenous topics.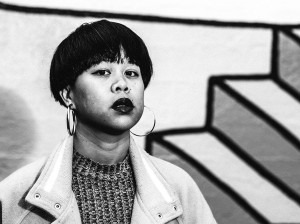 One particularly relevant issue in Indigenous communities across Canada, and a larger national concern, are the murdered or missing Indigenous women. It is a serious matter that Villagante doesn't shy away from. In the remix of her song "Brushing By Heaven's Shoulder," she raps,"Queens dead on the scene / Never forgotten / Forever Missed" in reference to the ongoing tragedy.
Another way Villagante represents anti-oppression exists in the form of a festival. SHE is an "annual festival celebrating self-identifying women of colour, [mixed race], Indigenous [women], black [women], all in music and the art of words." As its founder, Villagante explained that the festival SHE was born when the music video for her song "She" ceased production. Like a phoenix risen from the ashes, SHE created a central space for the segregated communities that converged in Villagante's identity as a queer woman of colour.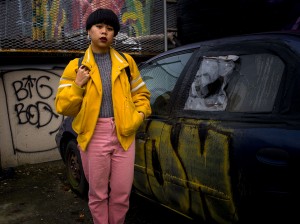 An article on The Atlantic's website postulated "that all-women shows are like affirmative action, neither especially good nor bad in themselves but a necessary measure in a still-sexist art world." I asked Villagante if this belief applied to her world. After five and a half years of studying visual arts and art history at the University of British Columbia, she did begin to take notice: "After I graduated, I pursued music more, but all the stages I hit had a lack of queer women of colour, or not even queer folks, or not even women of colour." As she put it, even in a "small bubble of any society, any group of people, it's never utopic." But SHE will return in March 2017 and lay pointed fingers, armed to burst bubbles of the soapy and illusory kinds.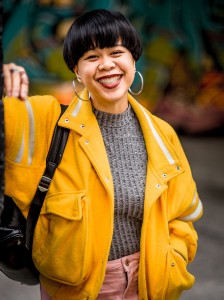 Villagante may not be as unbreakable as a diamond but her superhuman passion and energy have given her character substance of the highest order. That said, her presence is softened by a gentle instinct that, while powerful in its own right, exercises inclusivity over anything else: "I want to feel encapsulated in my music. I really want to feel like all my layers are in my music so I can just be like, 'listen to my music,' and that's actually all of me. But that's a continuous thing. I want to keep making more music that speaks to me and speaks to others, and I want to feel … family, to build a family with my music." It's an honest dream, to be sure, and if Kimmortal lives up to her name, time is on her side.
x
Purchase a digital copy of Kimmortal's Sincerity at any donation amount at kimmortal.bandcamp.com. 100% of the proceeds will go to the Standing Rock Medic & Healer Council. Kimmortal also has a new music video for "Jungle," featuring previous SHE performers Missy D and Jillthy. Check it out at youtube.com/kimmortalmusic.