Every summer, the city of Victoria hosts the Eventide Music Series, an all-ages concert program that takes place in the strange Modernist pavilion of Centennial Square. The series features a number of local alternative acts performing every Thursday from June to September. With funding from the city, attendance is completely free and open to the public. Speaking to the music, there is a trend towards the idiosyncratic, the psychedelic and, as the website states, the "post-angular." At one such show last summer, the evening's lineup, White Poppy, Sister Blanche, Kye Plant and Old Girl, was all of those things. But the performers shared something else in common: every band on the lineup had released their music through Gary Cassettes, an independent label based in Victoria.
Despite the seemingly pervasive influence of Gary Cassettes, the label keeps an exceptionally low profile — quietly putting out tapes to little fanfare. Tasked with writing about Gary Cassettes and having a distinct lack of any sort of information, I began what amounted to a scavenger hunt, and a not unrewarding one at that.
The list of Gary Cassettes alumni is impressive. In addition to those aforementioned bands, Gary Cassettes boasts releases from NXC HXGHXS, Mourning Coup, and Kristian North, to name a few. Releases are predominantly from Victoria, but have come from as far away as Japan and Brussels. The list of tape releases is the last easy thing to discover about Gary Cassettes. They don't have a website, they don't submit to blogs, and I learn that they don't seek publicity in any way. When I get in touch with Gary Cassettes, they are happy about the pitch but politely cite a strict zero interview policy, instead, suggesting I might have better luck asking someone else. They sign off on the article by providing a list of artists I should try to contact. So, I do.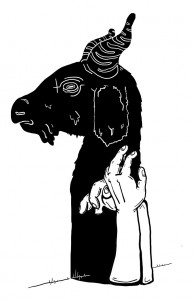 Johnny Zithers released his self-titled album on Gary Cassettes. "There are other labels based in Victoria, but none really capture the Vancouver Island scene like Gary," says Zithers. "Victoria is a place where you can have old men playing techno and children playing grindcore on the same bill. Gary started nurturing recordings from these acts and solidifying them as cassettes. If you see a weird suitcase filled with tapes at a show in Victoria, it's Gary."
This is a common theme when I talk to artists about Gary Cassettes — the mysterious label is repeatedly cited as a unifying force in an already tight knit and decidedly strange underground music scene. "Gary Cassettes is definitely a positive catalyst for merging people together in the Victoria music scene," says Crystal Dorval, a.k.a. White Poppy. "It's real and there's no bullshit. It's 100 per cent about the music, community and supporting musicians."
Tom Whalen, a.k.a. Tommy Tone of Gary Cassettes alumni New Vaders, points out another key strength of the label: "[Gary Cassettes] are righting the eternally wrong idea that experimental music belongs to boring sad men," says Whalen. Mourning Coup, Sister Blanche, White Poppy and Old Girl all feature content wholly written, recorded and produced by women. On this note, Dorval says, "I'm very proud to be affiliated … I've seen the label go from just an idea to the well functioning machine that it is now … it's very cool to see the progression."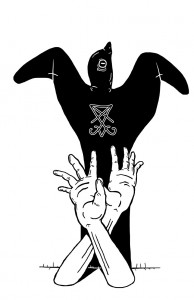 Chandra Melting-Tallow, or Mourning Coup, has her own perspective of Gary Cassettes that is one part music label, one part angelic conscience: "Let me tell you the tale about a little label that lives just over yonder hill. Gary Cassettes has really good snacks, Gary Cassettes is basically family, Gary Cassettes is also a total workaholic. When I was trying to quit smoking I asked them for a smoke they looked me dead in the eye and were like 'You sure about that?' and I said 'Maybe.'"
I continue to learn a little bit more about the label with each band. It is run by one person. That person is sometimes called Morgan, and sometimes called Gary. The label's two year anniversary is March 2017. But, (and with a full awareness of the hackneyed nature of this forthcoming statement) I come to realize that the details might not be as imperative as I thought. I check myself for getting hung up on particulars, when a pretty diverse music scene has just been revealed to me. It makes a Vancouverite want to hop a ferry and go check it out. That could well have been Gary's point in avoiding an interview. Then again, maybe they just didn't want to talk to me.
When your main focus is pocket-sized tapes, traded from hand to hand on an island, there isn't much need for grand publicity schemes. However, there are definite hints of continued production, and possibly even expansion. Zithers notes the development of Gary Cassettes in the past few years: "Maybe it started as a sampling of the weird and welcoming Vancouver Island music scene, but now Gary is set to be one of Canada's most eclectic cassette labels." With this in mind, I draw one main conclusion from my search — it would be smart to keep listening for Gary Cassettes, despite how quiet or evasive the sound might be.
x
We dare you to find more information about Gary Cassettes.