There are plenty of analogs between Astorino's and Vancouver's own Nardwuar: both are crazy remnants of a time gone by, but wholly inclusive to new people and ideas. An all-ages show at this ancient banquet hall presented by the zaniest Canadian journalist ever to grace the cover of ION Magazine just made some kind of weird sense.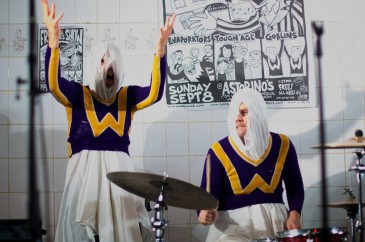 Thee Goblins paraded their brand of two-piece punk-rock proudly. Playing to an early crowd of children and teens, Thee Goblins' frontman (not-so-secretly Nardwuar in a mask and one hell of a sweater) made sure his enthusiasm sparked the audience before the end of their brief set.

Tough Age were a logical fit to break up the heavy dose of the Nard' filtering throughout the evening. Jarrett K., their ex-Apollo Ghosts/Korean Gut singer/guitarist, was one of the original members of the Safe Amplification Site Society, the collective that gutted Astorino's just a short time ago to turn it into an all-ages venue. The band, recently signed to Mint Records, played an exemplary set of psych-fused rock with the occasional '50s throwback cover song.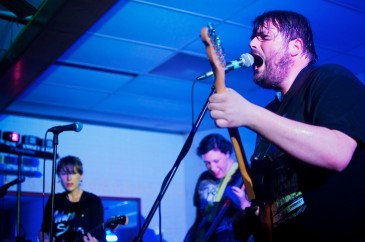 Unfortunately, Astorino's definitely wasn't designed for four-piece rock acts to play at 11 simultaneously, and it was hard to hear anything over the wash of tile reverb and fake-wood-panel echo of guitar and drums bouncing off the cavernous space.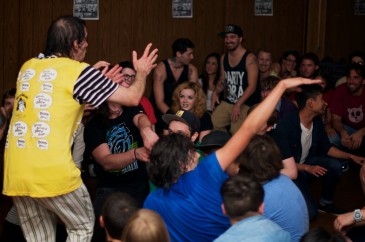 After a very brief intermission, it was back into the incredibly sweaty bingo hall to witness the glory of the Evaporators. The greatest lie the world ever told was that this three-piece, again fronted by Nardwuar The Human Serviette, wasn't a motivational speaker in disguise. If your high school years were anything like mine, they were filled with groups of dancing beat-boxers doing acapella covers of Led Zeppelin and rapping about the dangers of hard drugs; The Evaporators are like that, but way cooler.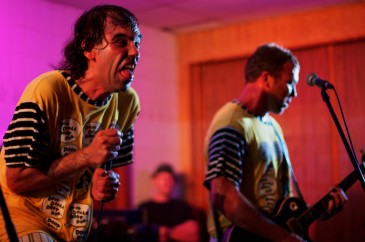 The genius is that they weren't playing in a school gymnasium, and that kids and teens were going out of their way (some from as far as Manning Park) to show up and listen. Songs about Canadian history (Nardwuar can't keep factoids out of his music, either!), standing up for yourself, and the importance of individuality were all underlined by great old-school punk guitar riffs and some killer yellow costumes.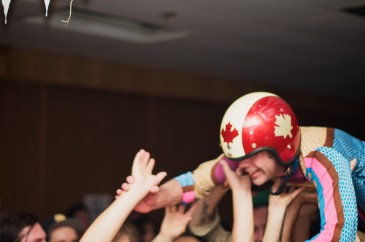 Nardwuar busted out all the usual tricks—that is, crowd-surfing with a Rhodes, a Canadian-flag knit sweater and matching motorcycle helmet, shout-alongs, and trivia questions — and though I'd seen each one a dozen times, Nardwuar's schtick never gets old.
Maybe it's his unwavering enthusiasm and positivity, or maybe it was the legion of young people getting sucked into the world of good punk-rock, but by the end of the night I was beaming just as widely as the Nard was, even if I wasn't sweating quite as hard.