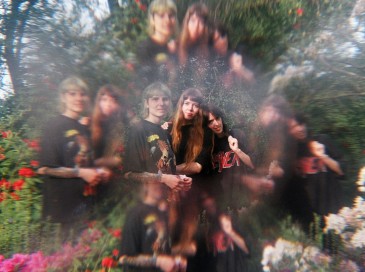 With Spice Girls stickers pasted decoratively on mirrors, '90s reflections were mired in pop sensationalism. The decade shrieked for girl power and the response came in song. Initially earning wealth and fame for anthemic pop, skillful mass marketing molded the Spice Girls into icons. The five women moved transiently between band and brand. At the foot of their empire, children clawed for collectibles. Magazine quizzes gauged personality by "spice" and a feature film monopolized cinemas. Spice Girl fandom moved beyond music. In the '90s, the rumbles of pop melody were the movements of behemoth celebrity culture.
Twenty years later, Vancouver garage punk trio the Courtneys ask, "Which Courtney Are You?" (You can take their quiz.) Tie dye aside, this group's nostalgia for the '90s extends beyond lyrics and fashion. Authoring workout videos, a wide selection of merchandise, online quizzes, and more, the Courtneys delve deeper into a not-so-distant decade. They toy with fame using social media and retail products. Imitating the marketing strategies of groups like the Spice Girls, the Courtneys have fun while allowing their audience to consider the complications of pop culture.

A bird's unbroken chirp threads through the evening as the Courtneys and I sit on the Burrard Street YMCA patio. Often holding band meetings in the YMCA hot tub, Jen Twynn Payne (drums), Courtney Loove (guitar), Sydney Koke (bass), and I chat outside in the warmth of May.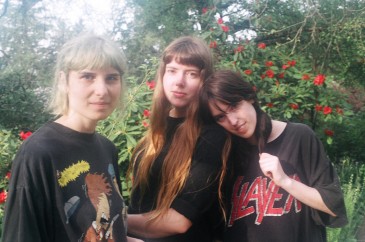 Even glancing research confirms these girls are prolific self-promoters. During our interview, Payne sports one of the band's new Courtneys snap-backs. Front and centre is the official Courtneys' signature, a rare font blend of the logos from 90210, Fraser, and Club Monaco. These hats have the upcoming Courtneys album info printed on them, though they fit more snug on your head than inside the record sleeve. A significant addition to their line of merchandise, Koke comments, "It's really exciting to just make things in all different contexts." Their non-purchasable promotions are another example. These include How-To videos for working out, cooking, and catching a snake. "It's fun to experiment with pop culture," Koke explains. "I'm really intrigued by the way that people have advertised themselves in the past and the way that celebrity culture has worked in the past versus now."


Experimenting with the notion of celebrity is always done with playful intention. Referencing the '90s is more serious. Despite certain song titles ("90210," "K.C. Reeves"), the Courtneys claim irony is absent in their music. Payne dismisses assumptions of mocking and says, "I just do things that I think are cool and that I like. I'm not trying to be ironic."


"I didn't realize how '90s we were until I saw our merch table," Loove adds. Hesitant to be swayed, visions of their Keanu Reeves cassette cover come to mind before Koke points out that the issue is really about "how irony and nostalgia are related." She offers her recently confessed love of Sheryl Crow as example, and explains, "The nostalgia is real. It's a real appreciation of stuff. It's not because it's a joke. It's because it's really awesome." In a final pledge to prove the band's sincerity, Payne announces, "I like Justin Bieber's music." Now I definitely believe them.
Originally from Calgary, Payne and Koke once bookended a band called Puberty. When Payne moved to Vancouver in 2010 as the drummer in Mac DeMarco's Makeout Videotape, she chose to restart the band and invited Loove in as an added guitarist. Their first show took place at Pat's Pub in 2011, almost a year after they had initially formed.
Crediting Pavement, the Clean, Dinosaur Jr., New Order, and Eddy Current Suppression Ring as influences, it took the poignancy of Koke's own bass riff for the Courtneys to realize that they were also heavily influenced by the French electronic band Air. Trying to pair a bass line with Loove's guitar part, Loove heard Koke's creation and announced, "That's Air!"
"Then we realized that we're basically the punk version of a smooth, sexy electronic band," Koke laughs in reflection.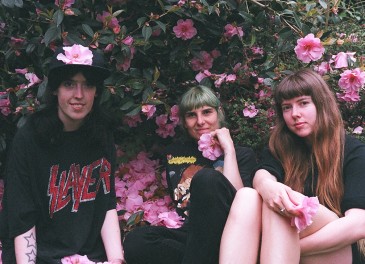 And naturally capturing that sound has become the Courtneys' next step. Their self-titled debut full-length album is set for release on June 7. Hockey Dad Records is releasing the vinyl (clear blue) and Gnar Tapes (Portland) will be dropping the cassette. The album's eight songs capture the first era of the Courtneys, and it was recorded, mastered, and mixed with Jordan Koop at Noise Floor in a snappy three days. Although admitting their songwriting process has since become more deliberate and selective, the girls felt they couldn't go forward without releasing the best of what they'd already achieved. The collection is filled with instrumental introductions to jolting two to three minute songs. Climbing chords separate and synchronize with pace-setting drums. The reverb-shadowed notes always find Payne's voice, as she offers prosaic lyrics in chanting pitch. The two charming standouts, "K.C. Reeves" (doubling on their Green Burrito cassette) and "90210," wink with pop arrangement and impassive three-person phrasing.
Maybe it's the low-fi, maybe it's the minimalism, but the Courtneys have a definite summer-laden aesthetic to their garage punk sound. With the '90s splashed on their shirts and in their tunes, these girls' light-hearted confrontations with celebrity push them beyond dynamic musicianship and dub them thoughtful and culturally conscious artists.
______________________

Snatch up a copy of the Courtneys new album at the Astoria on June 7 for their album release at Music Waste! Visit thecourtneys.bandcamp.com for merch and track downloads.