The raddest, hottest, most sincere fosterers of virtual "safe spaces" you ever did see, Normie Corporation's Haina, Pao and Vinson are equal parts aesthetic wet dream and raging talent. They each bring forth a range of skills that come together to create online dance parties with a uniquely welcoming and inclusive environment. Reminiscent of the pandemic-born digital event eminence that is "Club Quarantine," Normie Corp is existing in a similar vein, platforming loads of local QTBIPOC performers at every event. Although a sentiment surrounding Zoom events is that they are a fleeting bandaid fix to our COVID-induced party deficit, Normie Corp (respectfully) does not care. They are exuberantly making due and making parties happen for as long as we aren't allowed to dance, breathe and sweat in enclosed spaces. As long as they have a wifi connection, and as long as they have cute fits with nowhere but Zoom to flaunt them. They are new and growing, but already beloved in our local queer and BIPOC community. We discussed recent collaborations that sent new followers flocking to their platform, the neoteric benefits of virtual dance parties, as well as plans for how Normie Corp may change shape in the unpredictable  —  albeit, promising — future. Normie Corporation has shown that beautiful, vibrant, community-nurturing, low-barrier events are more than just possible, they are too valuable not to attempt to create. They said themselves that they "have not been gatekept by anyone or anything" in their virtual endeavours — the hope is that attendees feel the same way. Welcome without limitation. The pandemic has pulled the curtain on arbitrarily constructed barriers and virtual dance party initiatives like Normie Corp are spotlighting that in their own right. Needless to say, Normie Corp is changing how people party 4ever, and post-pandemic, it's not goodbye, it's c u l8r…irl. <3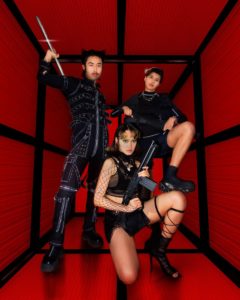 Maya: Your very first Instagram post aptly stated that "normie corporation™®© was born out of ~reminiscing~ the days and nights of dancing with friends." How did you come to form this plan for virtual dance parties? 
Normie Corp: It was pretty much the only viable option for us at the time! We had our first meeting at Wreck Beach and at the core of it was this longing to put on a cute outfit and dance with our friends.  We chatted excitedly about hosting events after the pandemic was over, whenever that would be. Throughout the meeting, we all agreed that online parties were the new normal and it would be a good practice simulation for event coordination. Shortly after our first meeting, events irl were shut down and we decided that it was now or never.
M: Your individual exec photos and bios on the Normie Corp IG are amazing, iconic, so hot and so wonderful — but they don't happen to mention the intricacies of how you all know each other. What's the backstory? Additionally, what talents and skills are you individually bringing to Normie Corp? 
NC: Honestly, we met through partying. This is something that we are extremely passionate about and we hope it shows LOL. We saw our skills as an opportunity to start a new project — Haina is a fashion savant and a wizard with photoshop, [she] is our Executive Manager of Aesthetics; Pao does event management and audio tech at her day job, so she's our Executive Manager of Technology; Vinson handles communications and manages talent so he became the Dutchess of Human Resources. Even though we all "specialize," we have made a concerted effort to learn each other's skill sets so we can become more well-rounded employees for Normie Corporation.
M: It's clear that the heart of Normie Corp's efforts is by marginalized folk and for fellow marginalized folk (inclusive to everyone, of course.) Stemming from that, do you think the virtual space has anything unique or special to offer to those of marginalized identities that in-person spaces do not?
NC: Absolutely. Events have become more accessible than ever. Hosting events online has been a blessing because we have not been gatekept by anyone or anything. In the spirit of low barriers, our events include Jam Sessions, where performers of any skill level can come and live their DJ fantasy. They don't even need DJ gear —some have made mixes on free apps like Traktor, or played their curated playlists through their music streaming services. We have been so touched by some of the results as performers put a lot into their sets. I think now is a good time to mention that all of the members of Normie Corp are queer people of colour, and we are thankful to have a platform where we can serve our communities. Since conception, we have featured 42 unique performers, most of whom are QTBIPOC.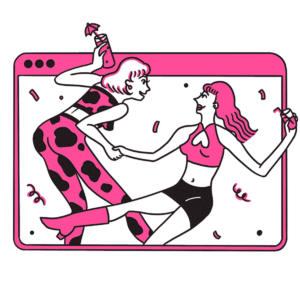 M: Evidently you've been making the very most of the platform, however, Zoom parties and digital events are notoriously either loved or hated. Given that, did you have any nerves or hesitancy in launching Normie Corporation? If so, in what regard?
NC: We were nervous, but we saw it as an opportunity to start a project without a lot of risk. The worst thing that could happen is that our zoom party…flops. That's a lot easier to swallow than renting an expensive space in Vancouver with no experience in event coordination. If people are growing tired of us, or online events in general, we pretend to not see it. We still have cute outfits and an internet connection, so we're gonna keep going!!!
M: You've managed to curate party environments time and time again that simply do not miss — the people love your lineups. Who have all of your biggest creative or musical influences been? 
NC: I think an obvious inspiration is Club Quarantine. They showed us how engaging online parties can be. Rice Cake was the first in the city to curate a party by, and for, queer Asian people. That is actually where Haina and Vinson met. We all have very fond memories of turning up at Level Up, Vancouver's only queer rap and hip hop dance party. As for creative and musical influences: Haina is inspired by Boiler Room, Park Hye Ji, Peggy Gou, Yaeji, to name a few. Pao channels raves in the Mexican jungles (she means Tulum but she doesn't want to say Tulum), where techno and house thump deep into the night. And Vinson looks up to the women in pop music.
M: If you could collaborate with anybody ever, who would it be? Multiple answers are very much welcome.
NC: We recently collaborated with Rice Cake for Lunar New Year and showcased some of Vancouver's hottest Asian talents. We are currently working with Kinsey, a Black-led collective based in Brooklyn that showcases the talents of emerging QTBIPOC artists. We are obviously inspired by local collectives Dame Vinyl and NuZi collective — both of which are lead by iconic women. We're excited at the prospects of working with collectives from all over the world. The beauty of throwing online events is that the biggest barrier is time zones. It would also be amazing to be featured by the pioneers of online clubbing, Club Quarantine. As for individual artists — Normie Corp has been really into Shygirl, Ms. Keta, SOPHIE, Sega Bodega, Nicki Minaj, Charli XCX, Quay Dash, Tierra Whack, Prado, Danny L Harle, Honey Dijon, & A.G. Cook…to name a few!
M: Love love love to hear you've been connecting with other dope (& local) collectives! Still, Vancouver's art scene can sometimes feel quite disconnected, intimidating and exclusionary. Normie Corp has played a large part in ameliorating the issues, but what is your take on Vancouver's arts community as it stands?
NC: First of all, thank you for teaching us a new word. Ameliorating. That's hot. Also, thank you for noticing that Normie Corp is putting in the work to be as inclusive as possible. As queer people of colour, we have been in spaces that seemed unwelcoming and sometimes hostile. We will continue using this platform responsibly to ensure that guests feel safe and welcome. This isn't just directed at local venues and communities, but there's been an increased emphasis on diversity and representation. While these discussions are great, it means little unless the minorities that they want to represent their brands are compensated fairly and in positions of power. Like, it's nice seeing QTBIPOC be the face of ad campaigns but we want to see them RUNNING SHIT.
M: What is your favourite thing that has come from the creation of Normie Corp? It can be a moment, a feeling, anything! 
Haina: We've had the pleasure of connecting with really talented artists from all over the world!
Pao: The three of us have become a lot closer from working together and we are mutually supportive of our DJ journeys —all of us started at the beginning of the pandemic.
Vinson: In general, it has been so rewarding to bring the community together when we are required to be apart. In a way, I think throwing dance parties kinda makes you a public servant. It's been weird times and we're thankful to see all of you dancing and having fun at our events. It really makes working for free worth it LOL
M: Speaking of "irl," with the recent announcement that life may very likely be returning to the old "normal" this fall, do you imagine Normie Corp will shift direction or change form? Or alternatively, do you plan to continue embracing the digital form as it is, and keep leaning into the concept of futurism?
NC: Oh, Normie Corp is ready to rave in-person!!! When we first talked about hosting events, we had no idea we'd have to do it over Zoom. Even at our first meeting, where we discussed hosting our first online event, we were already thinking about outfits and decorations for the first party in real life. When we go back to "normal", whatever that may be, we'll adopt a hybrid model and stream our events, as we still want to make it as accessible as possible.
M: In the nearer and less ~speculatory far future~, what are your next plans for people to look forward to? Upcoming events, announcements? Fill the people in!
NC: THANKS FOR ASKING! We are throwing a silly little music festival on April 20th at 7PM. There will be 10 DJs living their outdoor music festival fantasy at FVDED With The Pod. Hope you can UNCE UNCE with us! We are also going to host an event on May 1st, we just haven't started planning yet, but please, pencil it into your Blackberry — we'd love to see you there.
You heard it here first! Normie Corporation has no intention of dying down and they have events upcoming. Be there!!! To stay in the loop, Instagram is the best spot to catch their updates, @normiecorp.