Last fall, Berlin-based neo-folk artist Rowan Coupland released Circuit, an album that caught our attention from across the big pond. Leo Yamanaka-Leclerc reviewed it for Discorder's Winter Issue, remarking, "Rowan's lyricism often captures beautiful portraits of the minutiae of life." As it turns out, this statement wasn't just metaphor.
Circuit comes with a limited-edition art book of 11 original illustrations by Vancouver artist, Eva Dominelli. She, quite literally, drew the portraits of the minutiae of life which Rowan so beautifully sings about. The booklet is the result of an intensive year of long-distance collaboration between Eva and Rowan, who met in 2011 through an artist/writer collective in Vancouver.
The book was printed with risograph, a process in which layers of ink actually sit on top of the paper to create texture in the drawings. The object itself — soft pages with rigid creases of ink, whimsical drawings in Eva's signature style, and messy and scribbled song lyrics — could be seen as a manifestation of the layers of collaboration between Eva and Rowan. Every song was developed visually through the sharing of emails, Skype conversations, creativity and trust.
Discorder recently borrowed some of Eva's time to discuss this process of collaboration, and the art book that resulted.
With you in Vancouver and Rowan in Berlin, what was it like collaborating long-distance?
It was tricky because of the time difference. We did mostly Skype and some email. I would write these big emails for Rowan with all the sketches, and then wait to get his feedback and he would have to reply and wait for my response. And then, we would do chats where it would be early in the day for me and very late for him. The whole process took a little over one year because of that. It was a very prolonged, almost broken process. At times, it felt like I was chatting with an abstraction.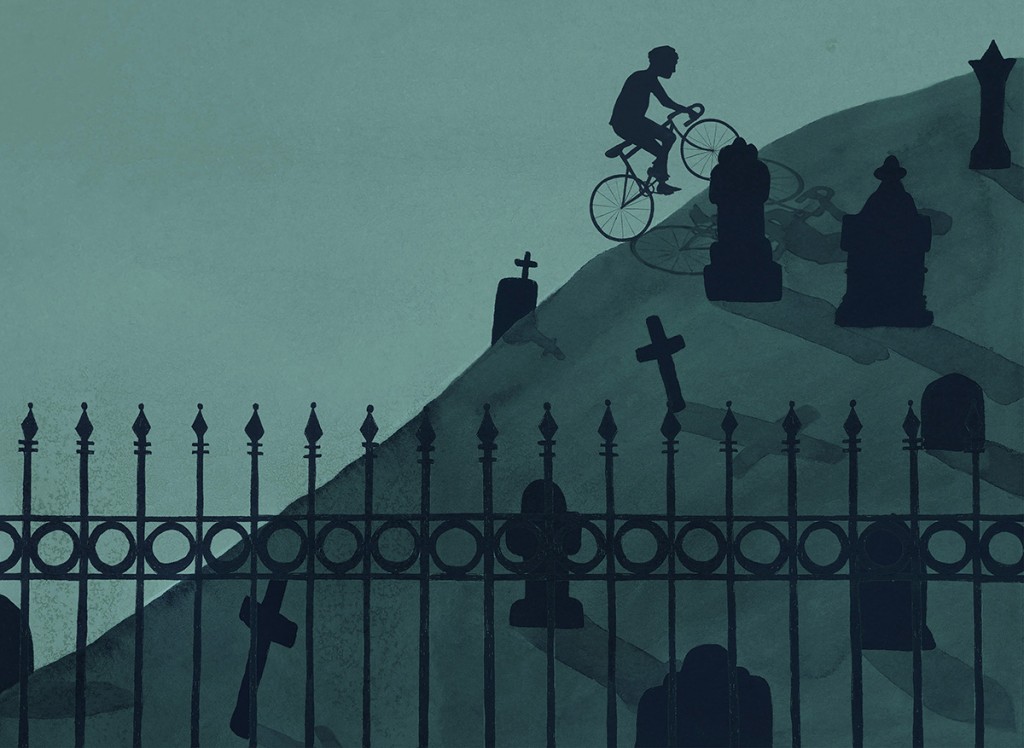 That sounds creatively exhausting.
It's hard to riff off someone when they're not in the room. So, yeah, it was a bit creatively exhausting. When I would be excited, Rowan would be sleeping or at work or busy, and then when he was excited or motivated, I would be busy. It was a little exhausting, but it wasn't hard; it was easy when we were talking about things.
I find it interesting, that idea of completing a commission between two competing worlds: the Skype conversations with Rowan, versus the music itself. Did you ever feel like you were working with multiple people?
I didn't really think about it that way at the time. […] I got to interact with [the songs] on my own and interpret them myself, and then I would talk to Rowan — both in writing and through Skype — and he would have a different interpretation. In a way, it was like talking with myself, his music, and then Rowan as a person, which is the exciting and confusing part about collaboration.
I sometimes envy musicians, because they get to create and perform in a space with multiple people. As a visual artist, as someone quite introverted, I spend a lot of time alone — which I like — but sometimes I crave other people. So, working with music and working with someone on a project, that was really exciting for me. I pulled out of myself a bit, to interact [with Rowan] on that level.
Some of your visuals are really precise. I am thinking of the drawing for "Riding," with the horse [above], that seems as if it is passing through or frozen between walls, and lamp posts in the distance. Using that image as an example, what was your process for collaborating with Rowan on specific imagery?
Some of them were more of Rowan's creations, some were more mine. A lot of them were both of us, bouncing ideas back and forth. [For the illustration with the horse,] I remember Rowan specifically spoke of lamp posts that were in the Belleville area of Paris, if I'm not mistaken. So I drew those lamp posts, but they didn't seem quite right; they felt too ornate. And then I had to go back and say: "I like to draw lamp posts this way," and he said, "Yeah, that's great." But aside from the lamp post, I think I remember having a clear visual of that one in my head, in response to his conceptualisation of the song, and just bringing it to him.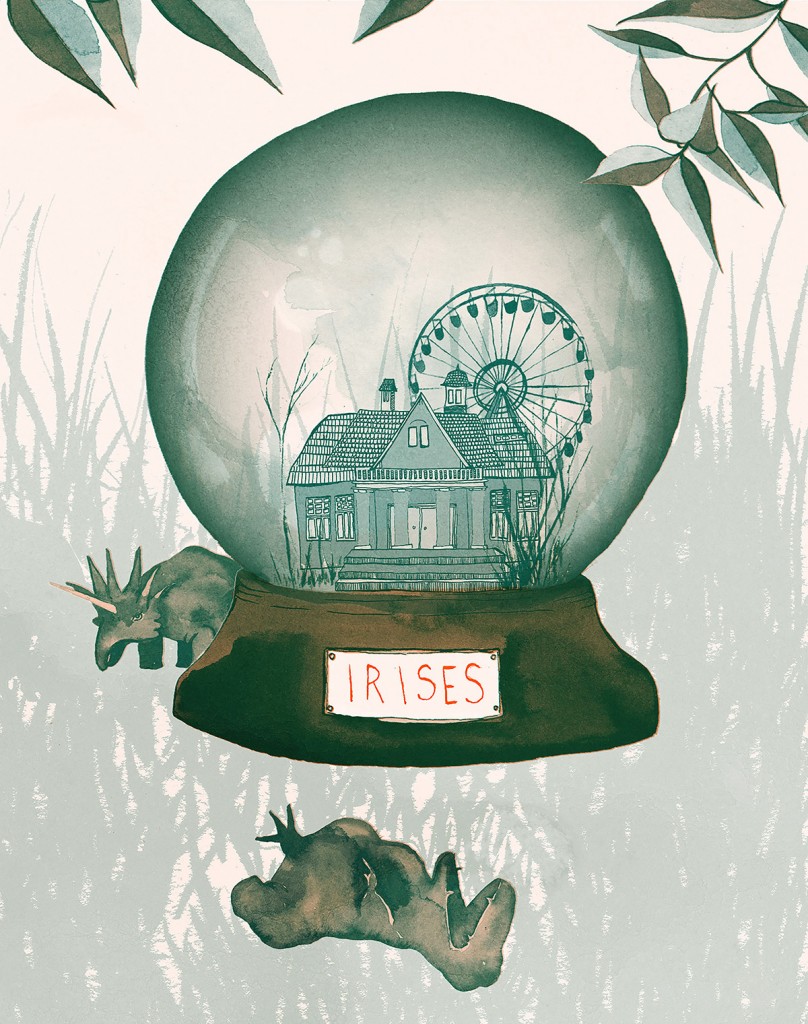 Many musicians don't want their songs to have clear interpretations and meanings. But through illustrating Circuit, you are obviously in a position to insert imagery into the listener's mind. Did you feel that pressure while creating the booklet?
I felt really honoured when Rowan asked me to work on this book with him. I felt an immense amount of trust from him to ask me to do that. It was a lot of pressure. I felt a responsibility to render it in a way that Rowan felt spoke to what was going on internally for him, and what those songs were about. Then, at the same time, you have to sort of let that go a bit, and understand that illustrations will demand their own life and voice.
Rowan has one song that's very personal for him, about his Canadian uncle. That song was the hardest for us to find visuals for. We ended up just drawing a few vegetables, and not trying to represent the idea or the concept or the feeling of the song through any kind of metaphor or complex visual, so that the song can speak for itself.
As an artist responding to Circuit, you've spent a lot of time with this album, and I'm sure you've developed an intimate connection with the material. In your opinion, from your own perspective and not Rowan's, what is this album about?
For me, Circuit is largely about the nature of the collaboration, and making an album into a visceral experience. With the rise of digital downloads, we still have album covers, we still relate images to albums, but I feel like that tactile interaction that people used to have with buying a record and CD, and flipping through the booklet, has been lost a bit. And so for me, it was about interacting with the songs in a physical, visual way. That was stronger for me than the concept of the album. In the same way that the album's concept and songs were Rowan's responsibility, the visuals felt like mine.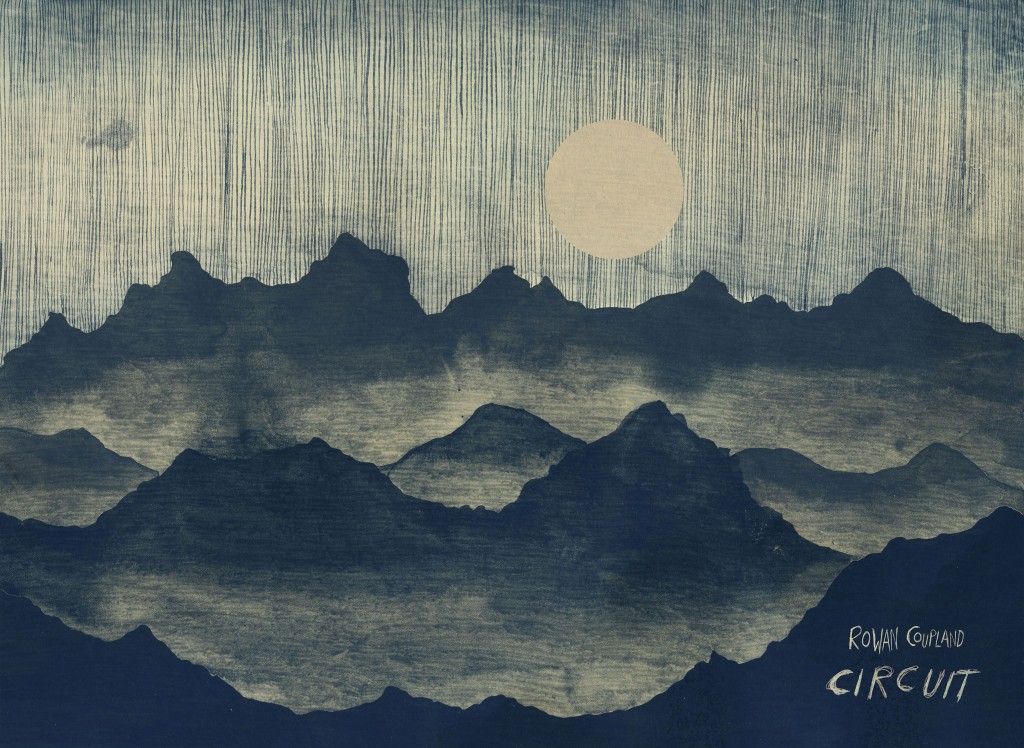 X
To browse more images from the Circuit booklet and purchase your own, limited edition copy, visit etsy.com/ca/shop/EvaDominelli. Additional illustrations by Eva Dominelli can be found at evadominelli.com. You can listen to Circuit and other albums by Rowan Coupland at rowancoupland.bandcamp.com.