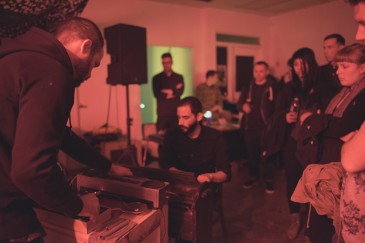 The spring equinox on March 20 marks the first day of our hemisphere's ascent from ice, snow, and cold, but in Vancouver — where no snow fell nor ice appeared — it was easy to mistake the Friday the 13th Quiet City showcase for a symbol of ending hibernations. Featuring drone and experimental acts Ruhlmann & Clément, Phonal, Holy Hum, and Chicago-based Coppice, the evening hosted by the Skylight Gallery was as good an awakening as any astronomical event.
It seems that most "underground" venues in Vancouver these days are in fact presented above a flight of stairs, and the Skylight was no exception. Although it failed to live up to its name with curtained-off windows and no glass visible on the roof, its central location in Pender's Chinatown made it an interesting hub of activity as nearby nightclub and nightlife energies mingled. Inside the white-walled venue, the intensities were softly subdued by ambient DJ sets and dull purple lighting.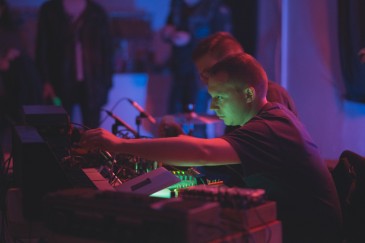 One of the best features of Quiet City (of which this was the 16th edition) is curator/organizer Constantine Katsiris and his emphasis on intimate listening. His introductions of each artist were poignant and concise and set up clearly the expectations of the audience to listen, contemplate, and absorb.
The first act, Ruhlmann & Clément, necessitated these qualities as they sat perched behind heaps of synthesizers and electronics. Their set was a combination of primal hums and digital swells, at times patient and sparing with the sounds they produced, and at others almost giddily assembling asymmetric tones on top of one another. The most asocial of the performers, the duo's set was just as captivating with eyes shut and head dreaming as with the audience's full focus on the two behind their instruments.
IN MEDIAS RES' Andrew Lee has taken many fascinating turns between that band's art-rock songwriting and his performance as Holy Hum at the Skylight. Lee has talked at length about his decision to move away from classically-structured songs and his progressive focus on experimental and drone music. While Holy Hum has been a project that has involved a swirling cast of members alongside Lee in the past, for Quiet City he played a contemplative and intimate set alone, behind a pedal steel and innumerable guitar pedals.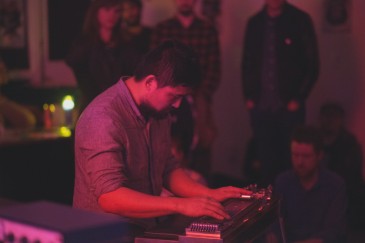 Part of Holy Hum's immense appeal is how open Lee makes the experimentation to his audience: despite his drones being technically impressive from an electronics perspective, it was easy to observe exactly where each sound originated from on the pedal steel in front of him. Using a variety of slides and steel tubes to evoke long, symphonic chords or arpeggio melodies, it was impossible for the crowd to keep their eyes off Lee's demure showmanship and intense, intimate focus.
After a short intermission, Quiet City resumed with Chicago's Coppice, whose show at the Skylight Gallery marked the first day of their West Coast tour with Ruhlmann & Clément. Their avant-garde performance relied heavily on a small pump organ and its creaky bellows. The pair of Noé Cuéllar & Joseph Kramer introduced themselves by asking the crowd to gather stage-center to enjoy what they called a "hard stereo" set. As the harmonium archaically grasped for notes, the sounds were digitally captured and tampered with before splitting to each of the stage-side speakers, creating a sound that was at once jarring and comforting. Similar to the works of Montreal-based Set Fire To Flames and their approach to recording Telegraphs In Negative/Mouths Trapped In Static in a largely unfiltered farmyard barn, here the appeal in Coppice was hearing the minute details of the laboured organ being captured, amplified, and willingly explored.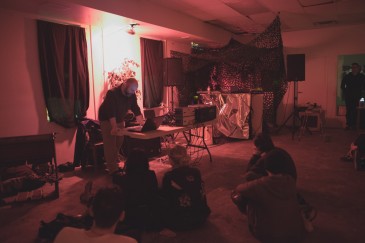 Closer Phil Thomson's project Phonal was a satisfying and energetic finish to the evening. Digital in nature, his compositions relied on rhythm and defined beats and patterns, a first for the night of musicians. Somewhere between fellow Vancouverite Loscil, and Cliff Martinez' soundtrack work on 2002's Solaris, his set felt nearly relaxing alongside his contemporaries. The breadth of music covered in a single evening was almost difficult to process fully at the time. Katsiris' dedication to curating and promoting the best in experimental music is only getting better — and now that the 16th session has brought about the coming of spring, I can't wait to see what's next.