Before anyone took the stage at the Media Club, I hung around the merch table and picked up a few albums. Of the combined six musicians from both acts on the bill, most of them hovered somewhere in the near vicinity. It was a Monday night and they had all travelled a long way to take the stage here.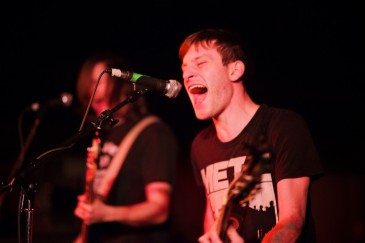 Toronto's PUP seem to be this year's spiritual successors to METZ, while also channeling the snotty, chanting vocals and grimy power chords of a hundred revered Mississauga/North York/Scarborough bands before them. Montreal duo Solids have seen some significant touring, with much more in the months to come.

With a decent smattering of people present considering it was a damp weeknight, PUP kicked things off with a blast of songs off their self-titled 2013 LP, barely letting up as they belted out triple-punch vocals on the choruses, starting with "Guilt Trip." This show — frontman Stefan Babcock remarked during one brief pause — after a drive straight across the country, marks the beginning of a long stint touring with Solids, and their only date in Canada.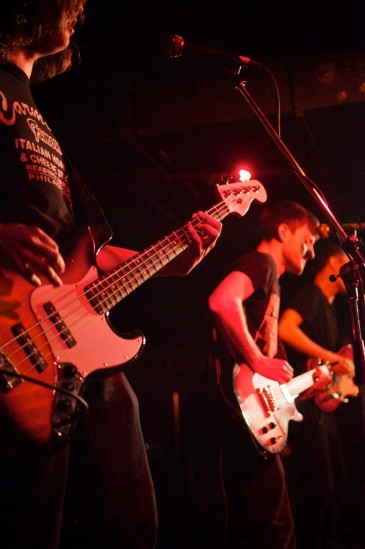 Particularly appropriate too, for these sons of the Greater Toronto Area to be thrashing and screaming onstage almost exactly as Mayor Rob Ford's unfortunate turn on the Jimmy Kimmel program was being broadcast on the east coast. The guitarist stage left displayed a "NO MO RO FO" button prominently on his guitar strap.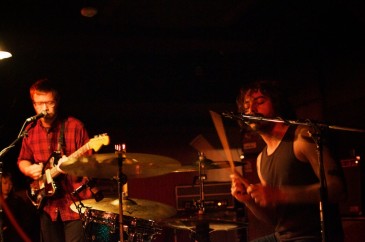 Blasting through their set, including a new song off an upcoming still-in-progress album, PUP displayed the sort of tight performance skills that come from years of jamming together. (Their rather unexpected Wikipedia page explains this, revealing that they were childhood friends and previously in a group called Topanga together.)
Solids aren't an imposing presence. The two members, guitarist Xavier Germain-Poitras and drummer Louis Guillemette, positioned themselves beneath a brought-from-home lamp right against the stage's edge, and proceeded to effortlessly make an amount and variety of noise befitting band with twice or three times as many members.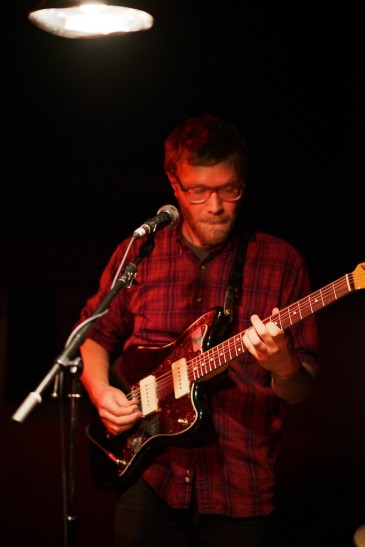 Keeping the banter to a minimum, Solids let their frantic drumming (chewed up spare sticks rested atop the bass drum) and driving fuzzy melodies speak for themselves. Their brand of noise is a slower burn than PUP's, an orchestrated pummeling of instruments with distortion-drenched chords left hanging while several more pile up behind, the two of them howling out lyrics in unison. Guillemette's masterful kit work seemed intent on simply keeping up with the sheer pace of it all, rolling along and absolutely clobbering the cymbals while sniping out snare hits.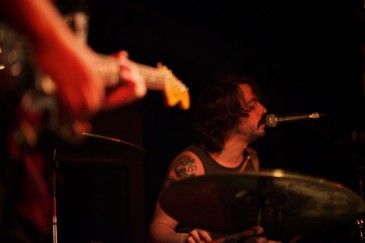 It seemed like the crowd thinned a bit for Solids (a few Ontario transplants chanting along to PUP and trying to start a four-person pit either stepped back or left), but the momentum continued as the pair worked through material from Blame Confusion, released just a few weeks prior.
Solids closed out their set with "Cold Hands," a high-revving effort wrapping things up nicely. As the high-pitched whine of the final chords faded and people filtered toward the back of the club, Solids began to take apart their kit. Just a couple of guys who came in, left their mark, and will do it again almost every night until June.