"That's the good thing about being good friends in a band. You can just, like, shit on each other." It's late on a Wednesday afternoon and I'm sitting in a half-empty Caffè Brixton with both members of Reef Shark, one of Vancouver's latest garage pop bands. Over a pint of pale ale, singer/guitarist Devin Miller is explaining to me the benefits of being so close to his bandmate.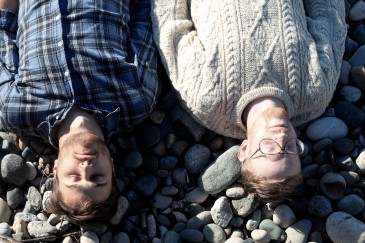 Drummer Garth Covernton is quick to chime in: "Once I told Devin he was playing guitar like the Edge. He got really offended and was mad at me for half an hour, but it was fine after that." The pair are disarmingly comfortable with each other.
With only a series of social media pages and a minimalistic website to research from, I'm unsure what to expect from my interview with Reef Shark. But as soon as we're all together, the pair are content to banter for half an hour about anything and everything—from how the band was formed to their creative process to details surrounding their upcoming debut release.
Covernton and Miller became fast friends when they were both enrolled at UBC. One night, instead of writing their biology lab report, they decided that their time would be better spent coming up with a list of potential band names. Three years later, after both of their bands went on indefinite hiatus, 41st and Home for Covernton and Young Pacific for Miller, they're finally putting one of their hypothetical names to use via Reef Shark.
After a year together, Reef Shark have a handful of beachy pop songs available on their Soundcloud and a full-length album in their back pockets—impressive, considering their original intent was to get away from the seriousness of other projects and experiment with their sound and write some "stupid summer songs." The yet-to-be-released album makes good on the promised dosage of summer, with everything from amped-up lo-fi jams to Beach Boys-esque vocal harmonies spread out over 12 tracks. Reef Shark are hoping to release their album sometime over the summer, and are currently on the hunt for a label to release it on.
When I ask about their approach to creating music, both Covernton and Miller agree on calling the process "easy."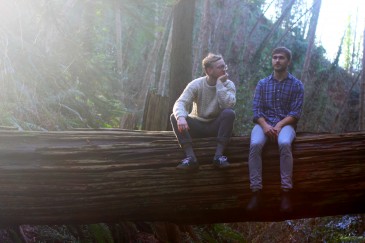 "We can basically decide in five minutes if we like or dislike something," says Miller. This rapid-fire creativity between the two once made it possible to come up with three songs in a single day.
What started as "a bunch of crappy songs… about having fun and the summer" quickly evolved into something more serious though, and Covernton and Miller decided to give the project the attention it deserved. That's when George Knuff, a friend of Covernton's, joined the team to help record Reef Shark's album in his basement studio.
When it came time for someone to mix the final product, Covernton and Miller knew they wanted it done professionally and decided on Jesse Gander from Rain City Recorders to achieve their desired loud and distorted sound. The search for the right producer caused a fortuitous delay of two months for Reef Shark, during which Miller—after watching a Lou Reed interview—was inspired to create a few bass lines for the album. According to Covernton, "[the album] would've just felt empty without bass," but the final mix ensured his drums stand out, creating some seriously danceable rhythms.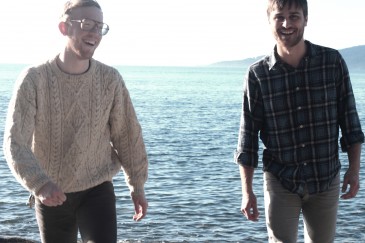 The final-hour bass changes to the album also raise the question of Reef Shark expanding their lineup in the future. A few names are cheekily tossed out, acknowledging that they should round out their sound for their live shows, but they're happy to keep the writing to just the two of them. The future also holds a follow-up EP (already in the works) set on focusing their sound and experimenting with a more laid-back vibe.
Reef Shark knows they've got something going for them and Covernton's in no rush to change what's already been working so well: "There's no time limit because we're so small and no one really knows about us and no one's like, 'When's that album coming out?' So we'd rather do it well."