It's always nice to see the Red Gate filled with people ­­for such a cavernous venue, it takes a surprising amount of attendance to really make it feel cozy. Thankfully, and despite the many other wonderful shows going on that night, this Friday saw the art collective filled to bursting with an eager crowd just coming off of their post-­Apollo Ghosts high.
KMVP started things off with a roar. The three-­piece cut up their ferocious punk set with nervous but endearing banter about fashion pets. Frontwoman Kristjanne Vosper alternated between plain singing and legitimately fierce punk ­rock yowling, and the crowd seemed to be just as impressed with her ability to hold onto her vocal chords as they were with the cheeky lyrics and rapid-­fire delivery.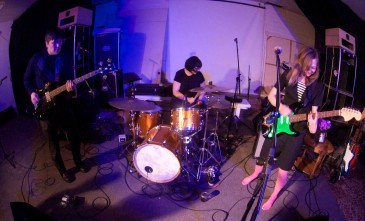 PUPS kept things moving with a garage-pop set that saw the Red Gate get really crowded and moving. KMVP's drummer, Rose Melberg, made her second appearance for the night, in what would later most definitely be recognized as a theme, both drumming and singing for the all ­girl trio. Songs were well-­rounded and made good use of all three singing, harmonizing, and swapping instruments. If there's one way to win me over, it's trading bass and guitar every other song, and PUPS' dynamics kept their performance thoroughly entertaining.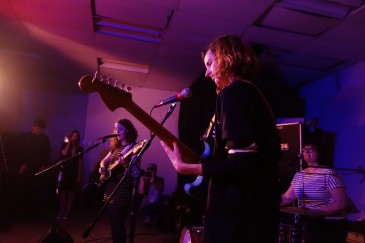 Cool is a very natural progression for ex­-Apollo Ghosts frontman Adrian Teacher. Where Apollo Ghosts started as an art ­rock indie project and ended as a never-­wear-out­ your-­summer pop masterpiece, Cool picks up and keeps the fun rolling. Along with Amanda Panda (also of Apollo Ghosts, though now playing bass instead of drums) and Shawn Mrazek keeping time, it's a beautiful thing indeed that, even with the death of Apollo Ghosts last year, Teacher's newest incarnation continues the dream.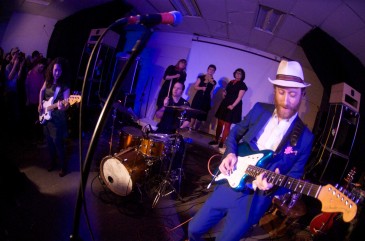 Cool's set started off with an extended introduction to their single "Blue," where Teacher (in a brilliant royal blue leisure suit) introduced the band and a trio of backup singers, also including all­-night veteran Rose Melberg.
There's some unknown, unbottleable quality to Teacher's brilliant showmanship that makes any project he's involved in soar, and Cool is no exception. Eschewing indie rock for garage ­funk, Cool's set was a brilliantly upbeat combination of fat guitar licks, manically catchy bass hooks, crowd­surfing, and a double­ encore that ended in a Soul Train­ style dance competition. By the end of the night, no one was still and all faces were lit with crazy grins. It's hard to ask for much more than that.