Advised in jazz dens, scribbled by beatniks, and nodded during the reigns of rock and grunge; the word 'cool' has survived decades of discourse. As slang, its meaning is spongy. It has absorbed changes with the times and at present purveys a nuance as twofold as its spelling. Behind one 'o' is a light offhandedness and behind the other, a heavy measurement of self-worth.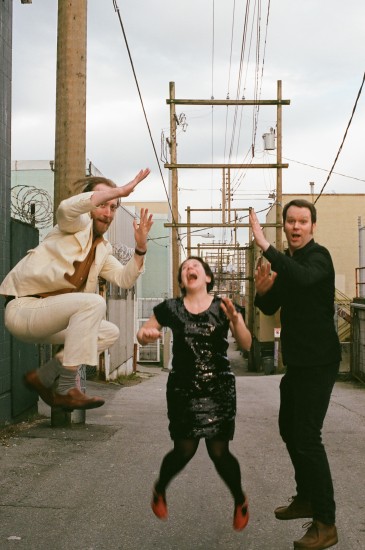 Embracing this multi-faceted term is Vancouver funk trio Cool. Formed in June of last year, Cool is comprised of former Apollo Ghosts members Adrian Teacher (guitar) and Amanda Pezzutto (bass), as well as Shawn Mrazek (drums) of Shawn Mrazek Lives! This superstar group enjoys how casual and commonplace their title is — though they also invite its more contemplative connotations.
"People worry about being cool, everyone does. Everyone worries about it constantly and yet it's also a word you toss off on a daily basis," explains Teacher. His audience includes myself, his bandmates, and a tray of assorted doughnuts and pupusas. Sitting beneath the fluorescent lights in Duffin's Donuts, I soon learn just how unassuming this band is. "We're the least cool people," Teacher confesses. Listing Cool's passion for Netflix, juice, and naps, he demonstrates that the group's name is genuinely meant to be tongue-in-cheek.
Beyond establishing their humility, Cool's title is a comment on the false objectivity of rating personal and artistic worth. By mock-praising themselves, they expose the emphasis we place on social status. The resulting confidence is likely the cause for their recent creative risks.
After watching an interview with Thom Yorke regarding Radiohead's loop-centered album, Kid A, Teacher began considering new ways of constructing music. His first move was to build songs based around a looping riff. Not relying on a laptop's meticulous memory, Mrazek explains, "Adrian makes his loops up from scratch." "You've really got to be thinking" he adds, as looping live leaves little room for error.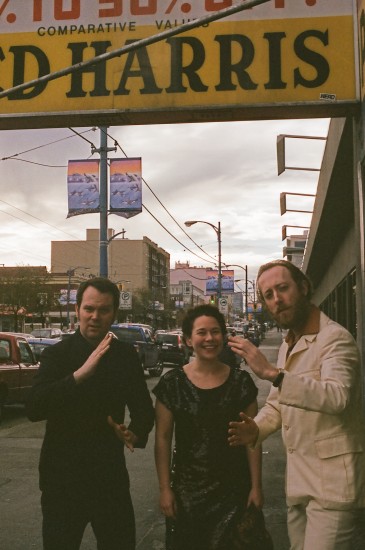 Ear monitors help the trio evade miscalculations. Mrazek is able to hear directly what Teacher plays, while Pezzutto's monitor is connected to Mrazek's drumming, which she answers with her bass. Beyond being an impressive spectacle, Cool's cohesive, loop layered tunes have emerged as engaging and dance-heavy. Teacher comments, "there is definitely the idea of the groove."
This groove grew as Teacher began turning up bands like the Talking Heads, ABBA, and the Bee Gees, and tuning into more female groups. ESG, the Bush Tetras, and early-fem disco also held Teacher's focus while he was writing music for Cool. Melding these groups with his new fascination for looping narratives resulted in Cool's first LP, Paint.
Recorded and mixed at JC/DC Studios with Dave Carswell and John Collins, Paint is a reasonably diverse album. Its eight tracks oscillate somewhere between funk and punk. The coiling vamp on "Blue" can undoubtedly be described as funk, while the style on "Purple," different but not dissimilar, is more minimalist. The chord climbs are visual and proceed in more traditionally terse punk-pop patterns. "Saffron" is somewhere in-between, employing jolty guitar riffs with tempo-changes denoting a darker undertone. At times, song loops are shadowed by whoooing backup vocals. Like ghoulish gusts, these harmonies breeze in the background, stamping Paint's sound as unordinary.
Paint's theme stretches this uniqueness. Qualifying as a concept album, Paint is a collection of eight songs, each named after a colour. Like renowned psychologist Robert Plutchik's colour wheel, these colours correspond with the emotion conveyed in their assigned song. Teacher explains, "I was thinking about colours as emotions. So rather than approach a song in a metaphor or a story about my life I got into thinking about this psychologist." Teacher's poignant writing approach arose around the time he decided to construct loop-based tunes. Both efforts exemplify Cool's willingness to explore their creative unknown.
Teacher comments, "I like that we're taking a risk and not playing what a lot of other people are playing."
"What's the worst that could happen?" Pezzutto summarizes the non-consequences best, "People will say this sucks?"
As old friends and experienced musicians, this trio doesn't much care about negative opinions. Before they even met, Teacher was an adamant admirer of Mrazek's drumming in the Notes from Underground just as Mrazek was eager to describe Apollo Ghosts as his "favourite Vancouver band ever." When the three came together, everyone was equally delighted.
"We fell into a comfortable space with one another really quickly," Pezzutto explains, to which Teacher concurs, "It's free and easy."
These affable band dynamics may be Cool's greatest strength. From a place of friendship, they are able to be unpretentious and accessible, both in person and as performers. Their facetious title chronicles three incredibly creative musicians who would rather eat doughnuts and hang out than indulge in the vanity and self-promotion of the music scene.
As for Cool's upcoming plans, stay poised for a release around Music Waste titled Best New Music. Described in Pitchfork's determinant terminology, Cool once again jokingly pre-establishes our approval.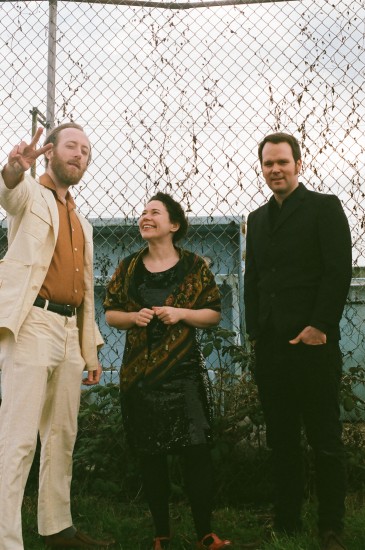 Hopefully this crew continues to theme their tunes in challenge. The self-awareness they promote could not be more significant. It is a crooked music scene that doesn't appraise music beyond its social prestige.