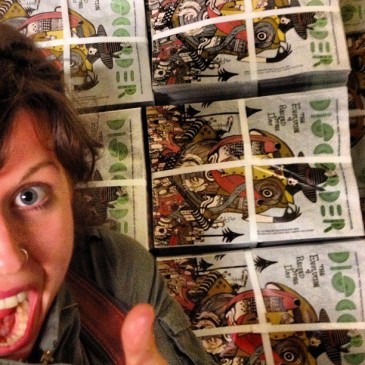 My first band was called Lobster Stew. It was a garage band (location-wise, not genre-wise) formed in spring of '98, a duo with my eighth grade best friend. I played drums and yelled. She played guitar and workbench. After two jams, things like rowing or swim practice, drinking slushies after school, and our general musical inability set in, and we fizzled. 15 years later, I'm in my second-ever band with my present roommate/platonic life partner (PLP). We haven't practiced yet, but we have a few whiteboards worth of ideas, a bitchin' band name, and I'm slowly learning to play glockenspiel and a mini Casio to catch up with her violin and button-pushing skills. We'll keep you posted.
I've never played a show in a band, but in March, said PLP and I had a DJ night for the first time. I know people often slog on DJs, but hear me out. We rounded up our favourite vinyl from our collection and played records-only for four hours at a local pub: anything we wanted, from Robert Palmer to Joan Jett to Beastie Boys to Nick Cave to David Byrne to New Values to Black Eyes and so on. It wasn't so technical that we had to beat match, but we got the fade down pat by the end (!), and even turned the grimacing face of a twentysomething fellow—clearly forced there with his family for a meal—into a chipper smiling one through great tunes over the course of their visit. Buttons and T-shirts were made in honour of the night. Bands and "real" DJs might guffaw, but I had the most fun day of my life.

My point is that playing music for people is awesome, whether it's a syncopated cacophony of sound in your garage to nobody, or playing other people's music to a bar full of friends and strangers. I'm overwhelmed with emotions and memories tied to songs and their settings, for myself and the bar patrons, whether they were even listening or just yelling in conversation with their friends over beers, or more interested in the TVs and the street folks that stumbled in every so often. That feeling when someone approaches you and asks, "Who is this?" with intrigue, because they're hearing someone new who they like and want to know more.
That's our goal at Discorder every month. We encourage you to explore live and recorded music on your own terms, but there's so much music to hear and artists to see that it's close to impossible to discover everything on your own. If you leaf through this issue or scroll down these pages and are intrigued enough to say, "Who is this? I want more!" we're doing something right.
We've focused a lot of content on the heart of music this month. From the D.I.Y. process of making music on page 18, to the places people practice, in our new column Jam Space on page 11, to the then-and-now of Record Store Day on pages 9 and 19, and heaps more, we hope to stoke the embers in your musical soul, whether it be as an enthusiastic participant or bashful spectator. Spring is in the air. Shake off those dull grey cobwebs and get musically twitterpated. April is on.
Read on and stay rad,
Laurel Borrowman