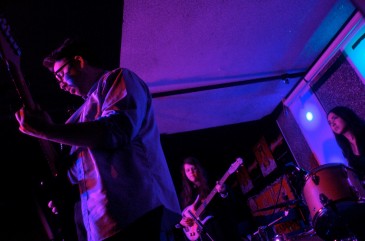 The wind was something fierce Saturday night, as the air felt like icicles on my ear lobes walking toward the Astoria for the Student Loans Records Launch Party on Vancouver's east side.
Koko kicked off the night with heavy, highly energized sounds. Infused with punk undertones, solid guitars and firecracker vocals, the set pulsated throughout the venue. Koko churned out some killer ramshackle punk folded with heavy distortion and solid bass lines. The three piece switched from fast, romping beats to even faster thunders of loud and rumbled fuzz. Without a doubt, I will be looking forward to seeing more of what Koko releases in the future.

The second act, Watermelon, played a slow-burning beautiful set. Although the Astoria was not the best venue to bring out the band's gauzy pop waves, Watermelon fleshed out sounds that expanded into the room. The set featured songs from their freshly released …And Meet the Sun including "Sunburn," which created a metallic jangle of guitar over Sophie Sweetland's thick pulsing bass. The three-piece created lush windswept sounds that slowly built through the night.
Audience favourite, "How I Came" led the crowd immediately into a whirling dervish of dancing shoes, where it almost felt like you were attending a community dance in the early 60s. Warm, loud and fuzzy in all the right spots, Watermelon is reminiscent of the Mantles with fewer nostalgic throwbacks. Despite the set seeming to feel detached, Watermelon managed to slap on infectious melodic hooks over revved up bass lines. Thicker than their recorded sounds, Watermelon's set swelled through the night.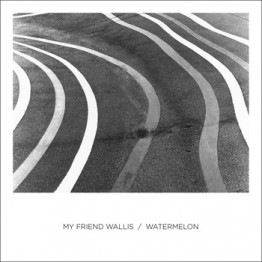 Watermelon
How I Came
My Friend Wallis
Better Things To Do

// split 7-inch \
on Student Loans
\   Records   //
The night finished off with a tropical dream pop set by My Friend Wallis. One of their most recent releases, "On Hawaiian Time," produces utterly visual sounds that flow like rivers in a coastal breeze. The set at the Astoria, however, seemed to capture a different tone, with the sounds turning into hazy, pillowy depressions. There was a feeling of restraint in My Friend Wallis's performance, hinged on distance from the audience, which seemed to be reflected in the gleam of their music. Despite this, Crystal Dorval's vocals created a gorgeous sprawling waterfall that submerged the audience into a dream-like state.
"Sunspots" was smeared in reverb, as Bobby Siadat's heavy drums also dusted the echoes of Dorval's guitar and bass. "Better Things To Do" became a highlight of the set, as the tribal and thundering drums met the gorgeous guitars and vocal sprawls throughout the song. The song became a splash of reinforcing grooves within a set soaked in pop reflections.
The night made it pretty darn evident that Daniel Rincon, Natasha Lands and Jarrett Evan Samson, co-founders of Student Loans Records, are off with a bang featuring a batch of exciting local bands. Blending everything from punk to contagious pop melodies, Student Loans Records has got the goods.