If you think you're the cat's pajamas because your music library holds some of the greatest names in jazz, you should meet Gavin Walker. Over the last half-century, not only has he collected a library worth drooling over, Gavin has been (and still is) friends with some of those musicians.
As you listen to The Jazz Show on CiTR, which Gavin has hosted since 1984, you can tell he knows more than you could find online or on record sleeves. His encyclopedic knowledge of jazz stems from his own experiences and skills: Gavin plays the saxophone, clarinet, flute, and piano. With all this in mind, his childhood was the best place to start.

[Interview has been condensed]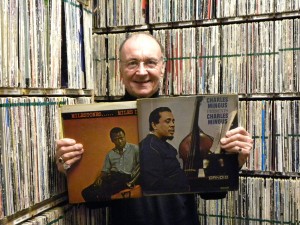 The Jazz Show
[click to listen to the intro theme]
Discorder: What was it like growing up listening to jazz on the radio in the early 1950s?
Gavin Walker: Growing up in Montreal and New York, I was always fascinated by the music on the radio. Back then, radio was almost educational. I figured out I could tune into certain radio stations and hear this music, though I didn't know it was jazz. But I learned new names, and liked the beat and especially the soul. There's music in the genes, too. My father played the flute with the military Grenadier Guards, and my mother was a good pianist.
D: When did your interest in the saxophone begin?
Gavin: My dad said if I was going to learn to play saxophone I had to first start on the clarinet, which was cool with me because I liked Benny Goodman and Artie Shaw. When I was nine, I heard Benny Goodman's Carnegie Hall concert recordings on the radio. That was just amazing. I remember riding on my bicycle to the record store, which was way across town in Montreal, to buy the 2 volumes, $5.98 each, of The Famous 1938 Carnegie Hall Jazz Concert issued on an LP [in 1950]. Lester Young's solo on "Honeysuckle Rose" was pivotal for me. For this piece, Goodman invited members of Duke Ellington's band and of Count Basie's band for a jam session on stage. Young's saxophone solo still tears me up. I thought that's the greatest thing ever and that's what I want to do with my life. I got my first saxophone when I was 12. About a year later I started playing with a rhythm and blues band: Frank Motley & His Motley Crew.
D: In the 1960s, you were a familiar face in saxophonist John Handy's house in San Francisco. What was it like to meet the musicians who frequented his house?
Gavin: I did stay with John, and he introduced me to prominent musicians like Oliver Nelson, John Coltrane, and Miles Davis. I got to know Charles Mingus very well. To this day, the people who are still alive are good friends of mine. I soon got past being awed by them. I realized they were just ordinary people and that was a great door-opener. In the late '70s, I toured the world with Wayne Cochran & the C.C. Riders. I was one of a couple of saxophone players in that band.
D: Miles Davis once said about jazz, "Don't play what's there. Play what's not there." What do you think he meant?
Gavin: What Miles meant was to leave something between the notes. Music is supposed to breathe; it should be given some space. I once had a music lesson from Thelonious Monk in San Francisco. I asked Charlie Rouse, who was Monk's saxophone player and a friend of mine, to introduce me to Monk, and he did. I got the impression that Monk really liked me. We carried on talking. Finally, I asked Monk if he had time to answer some musical questions I had for him. So he asked me to drop by his hotel room. He gave me the name of the hotel and said there was a piano in his room. Okay, I thought. The next day, I went up to Monk's room. He opened the door, but didn't say too much. He said have a seat, and I did. Then, Monk played that piano for about an hour and a half. I just sat there, not saying anything. Then he stopped and said, "You were here for some kinda lesson. This is your lesson." I couldn't figure out what he meant. He said, "The lesson is the silence between the notes. That's what really counts." And that's exactly what Miles meant.
D: If you could only bring one album to a deserted island, which album would it be?
Gavin: For me, one of the greatest jazz albums is Miles Davis' Milestones. The rhythm section was more fiery with Philly Joe Jones, whom Miles considered the greatest, and Red Garland and Paul Chambers. And playing with John Coltrane and Cannonball Adderley! What a group! Milestones just has the edge. I could live with that one record.
D: What does the future hold for The Jazz Show?
Gavin: Bigger and better things. I try to put the music into perspective and add any personal information or anecdotes that I know about the recording sessions, rather than just playing songs. There's just so much jazz out there and it is a real privilege to have three hours. It's kind of infinite, so I just think… carry on.
_______________________________________
The Jazz Show airs every Monday from 9pm to midnight.
Listen to the podcasts here.