The term "indigo children" was originally coined in the '70s to describe select members of the next generation as supernatural. These days it has come to represent a more general definition, that of kids who are more creative, empathetic, and strong-willed than others. In this general sense, it is a term that suits Vancouver hip-hoppers Indigo Kids to a tee. The group, spearheaded by MC duo Axiom and Kapok, bursts with creative energy culled from their surroundings to deliver uplifting rhymes over funky, danceable beats.
Since Discorder last spoke with the kids in the summer of 2011, they have released their sophomore effort Higher Forms and assembled a live band that includes Nick Laggassi (bass), Syd Beagle (drums), DJ K-Rec and Francesca Belcourt (vocals). Having just finished their first string of shows, I caught up with Nick, Kapok and Axiom for a coffee on the Drive to chat about how things have been going and what's next.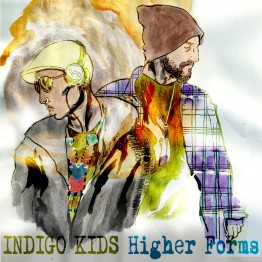 Discorder: So you guys just wrapped up your gigs. How did they go?
Axiom: Great! Our DJ, K-Rec, could only make one of them, but it was good for us because it gave us the opportunity to pin down the raps on rhythm. K-Rec is just this awesome additive that fits everywhere. Our singer Francesca was with us for all of them except Salt Spring.
D: How did you guys get started and how are Indigo Kids involved in the Vancouver hip-hop scene?
Axiom: I met Tai (Kapok) shortly after moving here at an open mic at the Anza Club and a lot of the other people we know in the hip-hop scene stem from that night at the Anza as well.
Kapok: Yeah we all met at the same open mic, and basically decided to start working together right there. I was born in Toronto but I'm a Vancouverite. I've lived here my whole life. I'm also part of another group called Ra Focus which is myself, another MC, Reflections, and another friend of ours Mosaic.
Axiom: It's a big extended family that comes from that: Reflections, Mosaic, Jellyfish Recordings, Headspace, AstroLogical and all those dudes. The first Indigo Kids record started off as a massive collective thing where Tai and I organized half a dozen people to record in my old apartment on Commercial here. It was exclusively AstroLogical beats and we just banged it out in a week. So we rolled with that for a while, did some gigs, then K-Rec got involved. Then we did Higher Forms which has got less guest spots. We kind of kept it more focused. As for the band, I live with Syd and Nick, so it made perfect sense.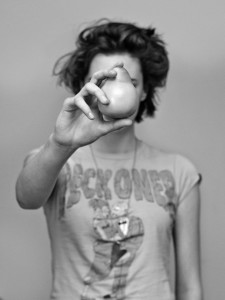 D: So how would you say the Vancouver scene compares to what's been happening in Toronto, it having become quite a landmark city for Canadian hip-hop?
Kapok: I think Vancouver is on the verge of that right now. There's something happening that I feel is really gonna explode and take off. Maybe in a different way of how it is in Toronto, with our own west coast vibe.
Axiom: We have a lot of friends in this scene that like our music and are doing great music themselves, and there are a lot of potential collaborations. Support at shows is the big thing. Having the band is going really well for us right now, Syd and Nick can just kill it. They are a tight rhythm section and the fact that we can just base it off them is awesome. Boom bap! That's all you need; stripped down. It's cool cause you can just focus on performing, there's so much more energy to feed off of.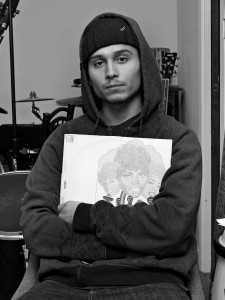 D: Speaking of energy, there is a lot of focus on positivity in your music rather than materialism or commercialism.
Axiom: I've been hearing that a lot lately, we're positive, and I love it! (laughs) I'm not sitting down writing a rhyme trying to make people think I'm positive, or charge people up with happiness; it just comes naturally with the way Tai and I write and I really think it's something to be proud of. I feel like we've earned a reputation for respecting our audience and I think that can take us a lot further than demanding respect. Like when you say something that's a cliché in hip-hop, like trying to be above somebody, that pushy, "This is mine. I own it," kind of thing, that confidence can be misconstrued and it doesn't come across properly; whereas I think that you can apply that confidence just by being yourself, and writing what you think.
D: Do you guys feel like you will continue with this stripped down format for the future and focus on this style?
Kapok: Anything can come into play. I don't think we should follow any particular way of doing the music. We'll just take what we have and make something out it. I've been doing a lot of production myself, so maybe you'll hear some of Kapok's beats on the next project (laughs). We also want to work more with various singers; like soul hooks and whatnot, but I think the main focus is definitely gonna be the band. Try and work on original material together, whereas before it was just us. We want to bring in everyone's ideas.
Axiom: Nick is a multi-instrumentalist as well, so we'd like to try and bring in some more of his stuff.
D: What else do you play?
Nick: I play synthesizer, drums, guitar, flutes and stuff. It's really fun playing with Harold (Axiom), cause when we get into loop and sample-based stuff, I can just play around and he'll find a bit he likes that I'm not even aware of, so I can just jam and have fun with it.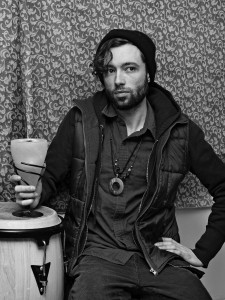 D: You guys have started to involve some theatrics in your performances. Can you tell us about the masks?
Axiom: I was saying to Nick the other day, when performers step on the stage I think they tend to drop everything away and it's just what they're doing in the moment. I don't think I'd ever had that until I started wearing a mask. I'd get onstage and I'm still me and I still got all my bullshit in the back of my head, but when I wear this silly mask, it goes away completely and it's game on. It's fun that way.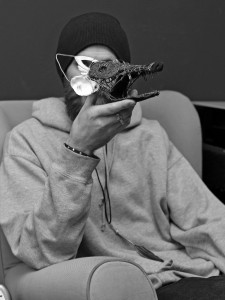 _________________________________
Catch the Indigo Kids performing for the 420 Gathering at the Vancouver Art Gallery this month!