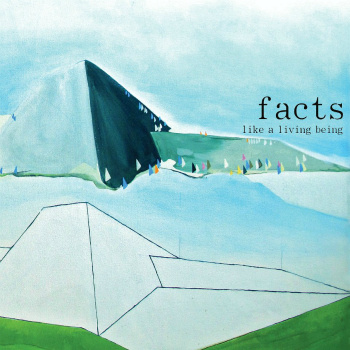 First times are either awkward forgettable moments or experiences that excite and engage. Vancouver's Facts comfortably stand in the latter category with their first full length, Like a Living Being. The album is full of various instrumentation, yet remains tight throughout, emitting the impression that the band has been producing records for a decade.

Facts have impressed audiences over the last few years, so it comes as no surprise that their '80s inspired new-wave dance revival sounds as good on tape as it does live. The five gents that comprise Facts are experienced musicians in their own right and they bring a diverse set of talent to the mix, including a classically trained pianist and a synth pop producer. The elements blend into a danceable and delectable offering.
If you have taken advantage of the free download of "Retro Oceans," Facts' first single available from their Bandcamp page, do not be discouraged; although the track has a radio friendly vibe, it is not the highlight.
"Colorful Box" leads the album brilliantly with an exercise in momentum-building, as a fuzzed-out synth motif erupts into a crescendo during the chorus and reveals passionate and intense vocals towards the finish. The hands up hit of the bunch is "Body Break," which ignores convention with nearly four minutes of quality body-movin' instrumentals before the jittery vocals take the lead and amp up the groove factor by an exponent of 10, only to slow things down through what normally would be considered the bridge—except the track never returns to its initial intensity, leaving you wanting more. It is rare when you are left feeling incomplete and satisfied in the same instance.
The album also features a number of gorgeous tracks that aim for a calmer effect. "C-C-C Cold," and "Purists," offer hook friendly choruses and methodical textures and layers that are pure ear candy.
Like a Living Being has many great moments that linger beautifully; most of the tracks are over five minutes, allowing for their full development. This is a stellar debut from band that has already proven their worth on stage.