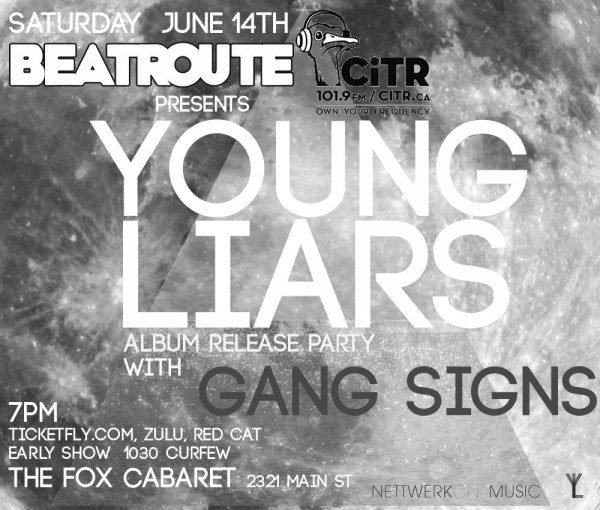 This Saturday(June 14th), The Fox Cabaret will be hosting the album release party of Young Liars, featuring GANG SIGNS  as guests! 
According to Andrew Beck, Young Liars was formed "from a combination of old bands breaking up, a few members staying together and a friend of a friend joining along the way." Drummer Tyler Badali and Beck founded the group with singer and guitarist Jordan Raine, later Wes Nickel signed on to play keys. Their synthy summer time vibes have helped them secure headlining spots at NXNE and Rifflandia festival. Check out the debut of their brand new music video for their title track right here!
GANG SIGNS have emerged from the Vancouver scene with their distinct dark yet youthful electro sound, that is just as fun to dance along to as it is to zone out in contemplative thought.  Matea Sarenac, Peter Ricq, and Adam Fink are the dynamic trio that have already opened for such bands as Yacht, Tanlines, Gold & Youth and Young Empires. Here's a groovy track off their EP!

For more information, visit Young Liar's Facebook event page.
Sponsored  by CiTR & Discorder magazine.