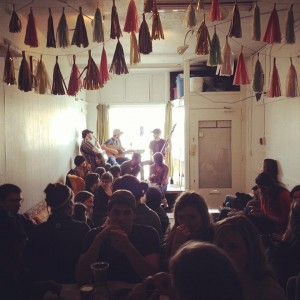 Can't wait for Sled Island Music Festival? Want to let loose and get a sample of the amazing bands that are sure to be there? Then come down to the Toast Collective on June 7th for the Sled Island Showcase at the Music Waste festival!
Things will kick off at 10PM  with music from Crystal Swells. Hailed as "Maple Ridge's 2nd best band", Crystal Swells does not mess around. Loudness and sheer head-banging noise is the name of the game with this band.
Following Crystal Swells, Supermoon (formerly known as "movieland") offers a fuzzy, 'office-punk' vibe. This awesome all-female band will bring much needed balance to the Sled Island Showcase, smashing gender stereotypes with a rocking sound.
Last, but not least, woolworm closes the night with their energetic pop-rock style.  They will be playing at 11:30PM, so be sure to stick around!
All in all, this is a night that is sure to be a good time! Cover is $5 for each show. Alternatively, you can get a way better deal by grabbing an all access pass for a mere $15, allowing you into every show at the Music Waste Festival from June 5th-June 8th for free! For more info visit Music Waste's website.