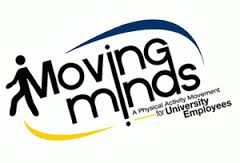 On Thursday May 15 2014, UBC's School of Kinesiology  presents the 4th Annual Moving Minds!
UBC Moving Minds is a free, non-competitive walk/run that helps promote the use breaks from work to support one's health and well-being. It offers education as well as a community atmosphere that enables UBC community members to create healthy habits that promote vitality.
The event welcomes UBC staff, faculty, graduate, PhD and post doctoral students, alumni and the general public to participate. Participants are encouraged to choose their own challenge: from one lap to several of a half kilometer route in the middle of UBC's Point Grey Campus. The route is designed to be short enough to fulfill a portion of daily physical activity requiremenst, in an attempt to show how easy it can be to meet the needs of your body for movement each day.
For more information about the event, check out their website.
Sponsored by CiTR 101.9FM!