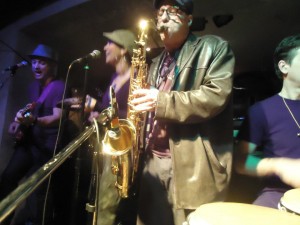 On Friday, December 13, come get lucky with Deep Seated and The Unified at the Backstage Lounge!
Deep Seated is an 8 piece funk/acid jazz/soul group with a horn section, keyboards, female and male vocalists, percussion, guitar, bass and drums. Their sound has been likened to Jamiroquai, James Brown, Curtis Mayfield, Five Alarm Funk… the list goes on and on – BUT for the best possible experience of their sound, come see them live!
The Unified are a 5 piece funk, reggae and jam band founded in 2009. Their sound features saxophone, drums, keys, bass, guitar, and vocals, delivered by experienced musicians that come from all parts of the globe. The mandate of The Unified is to create accessible music with a message of a unity, freedom, acceptance, and love.
Tune in to Discorder Radio next Tuesday for a LIVE IN STUDIO session with Deep Seated!
For more information, visit the Facebook event here.
Sponsored by CiTR, 101.9 FM!