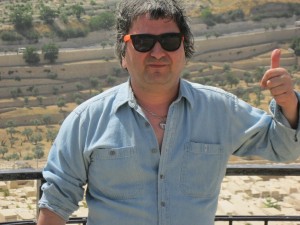 On Sunday December 8, head to the Jewish Community Centre of Greater Vancouver to pay tribute to former CiTR broadcaster and Co-op Radio Broadcaster Ethan Minovitz.
Ethan Minovitz was an active member of the Jewish community in Vancouver for many years and he was the co-host and producer for the Anthology of Jewish Music on Co-op Radio and a former broadcaster on CITR. On February 1, 2013, Ethan passed away suddenly. After he passed away, Ethan's family donated his amazing music collection to the Isaac Waldman Jewish Public Library. Due to the large size of his collection, the Waldman Library needs help in raising money to purchase two spinners to hold Ethan's one of a kind CD collection.
On December 8th from 6:30-9:30 at the Jewish Community Centre of Greater Vancouver, a variety of Jewish performers will honour Ethan's memory and celebrate his passion for music and bringing people together. Drum Mamma Sandi Millman, David Akselrod of the Noodnicks, Myrna Rabinowitz, Moshe Denburg of the Vancouver Inter-Cultural Orchestra, Charles Kaplan, comedy duo Cassandra and Irwin of The Actor's Drop In and members of the Vancouver Jewish Folk Choir will all perform to pay tribute to Ethan.
David Litvak, who was a co-host and co-producer of a sister program on Co-op Radio called HaMakor says, "My most vivid image of Ethan is seeing him at the Co-op studio with a plastic bag overflowing with a mish mash of CD's and LP's. Another fellow co-host, Alan Tapper, says of Ethan, "He loved music. He would go down to Seattle or Bellingham for concerts often. He even prayed for music, quite often he would do that."
The JCC's Waldman Library is dedicated to serving the community by providing access to a wide range of Judaic materials and information and successfully upholding the Jewish ideal of the importance of learning. The 2,200 square foot library is not only known for its vast collection it also offers special programs like book clubs, meeting authors, pre-school story time and tutoring. It is open to the entire community and actively cooperates with existing Jewish libraries throughout North America and Vancouver Public Library.
For more information about the event, please contact the Isaac Waldman Library
Email: library [@] jccgv.bc.ca
Phone Number: (604) 257-1111 ext. 248