Arts Reporter Danielle Piper attended this critically acclaimed Pulitzer Prize finalist (2009) on its opening night at Studio 16. Becky Shaw from Mitch and Murray Productions is on at Studio16 through December 7, 2013. Listen to Danielle on air November 27th, 2013.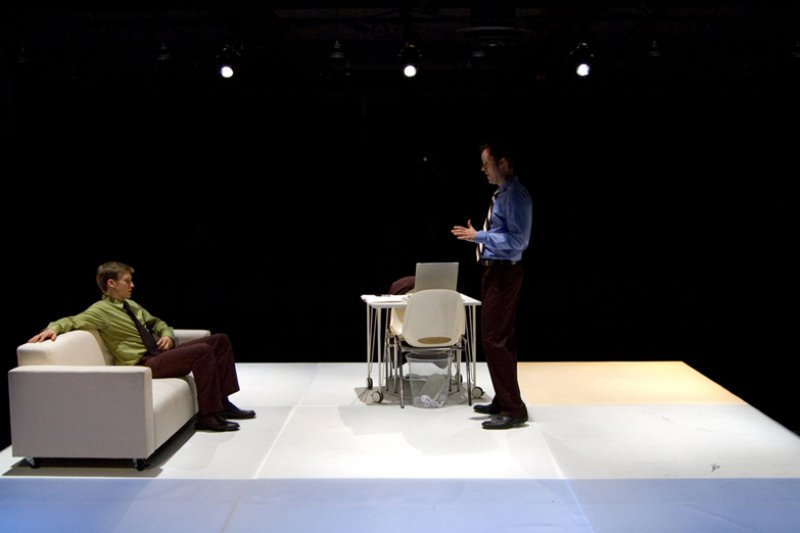 Written by Gina Gionfriddo and directed by David McKay, Becky Shaw is an engagingly witty tale about life, love and boundaries. It features Meghan Gardiner as Suzanna, Aaron Craven as Max, Charlie Gallant as Andrew, Marilyn Norry as Susan, and Moya O'Connell as Becky Shaw.
Becky Shaw (O'Connell) is an emotionally unstable young woman and the co-worker of Suzanna's husband Andrew. Suzanna (Gardiner) and Andrew (Gallant) decide to arrange a blind date between Becky and Suzanna's hilariously cynical (and often callous) best friend Max (Craven). Through a series of unforeseen events, Suzanna and Andrew find themselves becoming overly-involved with the lives of their friends, which puts a strain on their marriage.
Meanwhile, Suzanna's mother, Susan (Norry), has recently lost her husband leaving both women in a financial crisis. Her decision to bring her lover, Lester, to the funeral worsens an already strained relationship between mother and daughter. Suzanna feels that it was disrespectful to her father's memory. However, Max informs Susan that her father, though a nice man, was not a saint. Throughout the remainder of the play, Suzanna tries to come to grips with the man she thought she knew and the man he really was.
Becky Shaw is intriguing and entertaining. The dialogue and storyline were thought provoking and intellectually engaging. Each actor brought a authenticity and genuineness to their role. Gardiner and Craven were especially believable as Suzanna and Max. Kind-hearted Suzanna believes that sometimes lying is "the most humane thing" one can do – especially if it spares the feelings of others. Max is brutally honest and matter-of-fact and believes that we owe nothing to those we don't know or care about.  A noteworthy line from Max reads: "Unless you're Ghandi or Jesus, you have a limited sphere of responsibility. You have a plot of land and the definition of a moral life is tending that plot of land." Max and Suzanna have two very different outlooks on morality and I found myself contemplating to what extent either perspective was present in my own life.
Laughing at the fast-paced dialogue, nodding their heads in agreement with the characters, and expressing their frustration with the situations portrayed on stage, the audience seemed as engaged with the story as I was.
Aaron Craven, "Max" and Artistic Director of Mitch and Murray Productions answered my post show questions via email:
AR: Why Becky Shaw?
AC: The biggest reason to do this play was it's superbly clever writing – a very modern and thought provoking take on relationships and financial/social responsibility in the modern world.  The dialogue is written by the great writer Gina Gionfriddo, who has written for TV's Law and Order and House of Cards.
AR: The cast was really great, was it difficult to assemble?
AC: We did a very successful production of David Mamet's play "RACE" last year and as a growing theatre company gradually gaining a legacy of producing provocative new works, it's getting easier to access actors who want to be involved with our productions.  All of our cast members are seasoned and award winning professional actors from across Canada.
AR: What was the biggest challenge of this production?
AC: Convincing people in Vancouver to see live theatre.  We're a very young and somewhat transient city at the moment and very much a lifestyle city in terms of the outdoors (kayaking, skiing, etc).  As opposed to cities like Toronto, Montreal and Winnipeg, where theatres sell out all over the place, it is a constant battle to gain an audience in Vancouver.  We're trying to put our fingerprints on the cultural scene here by producing provocative plays from some of the world's best writers, while choosing material that speaks to the concerns of a young, urban audience.
AR: What do you think the audience will appreciate most about Becky Shaw? What will they take away?
AC: Besides the fact that you can buy a glass of wine and drink it in your seat?  First of all, a lot of laughter.  Audiences and critics have commented most heavily on the incredible dialogue and on the very funny, shocking and thought provoking content of the show. It's a great, great night out at the theatre.  And more importantly, we hope they take away a heated debate post show on these morally complex characters onstage.
Becky Shaw is one of two plays in their 2013 festival: Lungs runs Dec 3rd – 14th at Havana, 1212 Commercial with a PAY WHAT YOU CAN Performance Thursday Dec 5th, 8pm.  Lungs tells the story of a  young couple grappling with the decision to have a child in a world of economic and environmental uncertainty.