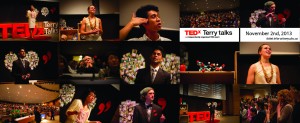 Now in it's sixth year, the TEDx Terry Talks has been a venue for UBC's most fascinating students to share their ideas and visions with UBC and the world. Using a format similar to the TED conference, the TEDx Terry Talks draws students, alumni, faculty, and staff for a day of idea sharing.
Held in the Life Sciences Institute on the UBC Point Grey Campus, the TEDx Terry Talks provide eight student speakers from a wide range of interests and backgrounds with the opportunity to address an audience of over 400. Each talk is professionally recorded and archived on the TEDx YouTube Channel and Terry Project website for online presentation.
In addition to the talks, networking opportunities are made available throughout the conference, and community leaders, clubs and non-profits are invited to provide booths and presentations during intermissions. This provides audience members with the opportunity to engage with local organizations and student-led initiatives. Be prepared to be swept off your feet by the passion of the UBC community.
For more information about the Terry Project, visit their website.
For ticket information, and for more information about this year's featured speakers, check out the Terry Talks page here, or checkout the Facebook event page.