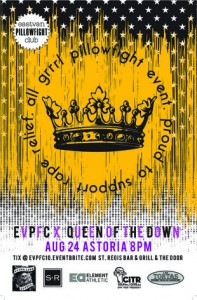 Pillow fighting isn't just for fun anymore: at East Van PillowFight Club, it's serious. On Saturday, August 24th, come watch some lovely ladies get serious for one of the biggest pillow fight events ever!
Featuring Troy St. Clare, Dora the Ring Girl, MC Crazy P, Hal Sugar Hands, reigning champ Serbian Scrambler, and many more, this fight is one you don't want to miss.
The event is happening at the Astoria Pub, 769 East Hastings Street. Doors are at 8, and the show runs from 9:30-12 PM.
Tickets are available online, at St. Regis Bar & Grill, and at the door.
For more information check out the EVPFC's website, facebook page, and facebook event.
Sponsored by CiTR, 101.9 FM!