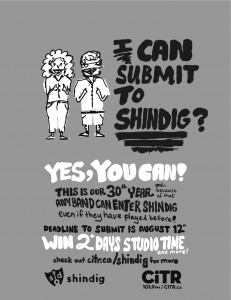 Great news! The SHiNDiG submissions deadline has been EXTENDED for another WHOLE WEEK! So what are you waiting for!?! GET YOUR SUBMISSIONS IN!!!
SHiNDiG is CiTR's annual battle of the bands competition that continues to offer the freshest underground music in a contest that spans 13 weeks (September to December).All styles are welcome — whether you are a solo country artist or a 10-piece punk band. Past participants includes the likes of Japandroids, The Pack A.D., Mystery Machine and The Organ.
And even more good news! Because this is is our 30th year, we are relaxing some of the rules of Shindig. This year, any band can enter Shindig, even if you have played before.
THIS IS WHAT WE WANT FROM YOU:
– A minimum 3 song demo of original material. CD/MP3/Bandcamp/Whatever. Rough mixes absolutely OK. We'll get the idea.
– Contact information (Email + Phone number).
– Bio, photos or other information are not required but we will look at them if you send them in.
AND THESE ARE SOME OF THE THINGS WE WANT TO GIVE YOU WHEN YOU WIN:

– Studio time and mastering for 5 tracks (FREE-EP)
– Automatic acceptance into Music Waste
– Prize packages from Band Merch Canada, Nimbus Recording
– Vinyl Prize Packs
– Showcase opportunities
AND SO MUCH MORE!
Please email all submissions to shindig.submissions@gmail.com by August 12th 2013.
Alternatively, we also love Canada Post. Put everything in an envelope! Mail it or drop it off by August 12th 2013 to:
SHiNDiG! c/o CiTR Radio
#233-6138 SUB Blvd.
Vancouver, BC V6T 1Z1
Canada