The 4th Annual Kirtan Vancouver Festival takes place August 10, 2013 at
Second Beach in Stanley Park
Noon until Dusk – FREE!
Yoga, Chanting, Music, Dance.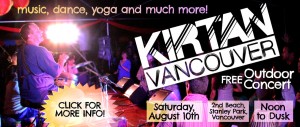 Kirtan is the ancient form of sacred chants performed in a group setting. Artists will range from traditional Indian style kirtan, to alternative / contemporary and mantra fused with hip-hop, reggae and dubstep. Audience participation is encouraged!
Green Bazaar – tons of earth-friendly vendors and healthy food options.
Srikalogy (New York, NY) – dub / hip-hop / dubstep kirtan
Lakshmi devi (San Fran, CA) – traditional Indian / alternative kirtan
Shantala (Eugene, OR) – contemporary / atmospheric kirtan
AirAnanda (Vancouver) – ambient / electronic dub / fusion kirtan
Bachan Kaur (Mexico / Vancouver) – folk / alternative kirtan
Sandra Leigh (Vancouver) – traditional Indian kirtan
with special guest MC: Emerson Lim of Karma Teachers (Vancouver)
presented by CiTR 101.9fm – broadcasting live on the day 5pm until 9pm