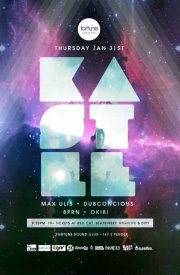 On Thursday January 31st, Fortune Sound Club will be hosting Kastle,the world-famous DJ known for his style of bass-heavy beats with a soulful twist. He'll be joined by Max Ulis, Jake Dubconcious, 8PRN™, and Okibi.
Limited $10 early bird tickets available online and $13 advance tickets in stores at Highlife, DIPT & Red Cat.
Sponsored by CiTR 101.9FM.