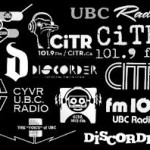 2012 CiTR 75th Anniversary Reunion Weekend, November 16-18
See the complete schedule and listen to the podcasts here! See our calendar for all special programming events throughout the year at CiTR.
Alumni returned to the air and relived their radio days! Throughout the weekend, CiTR alumni hosted their old shows from the past, and told stories about UBC Radio. Some of it was planned and some was free form! Listen in by clicking the links below to hear those voices from the past. Check out pics from the party here.