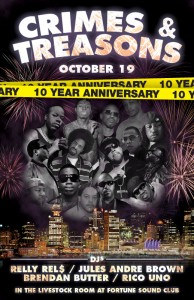 Tune in tonight from 9-10 p.m. to celebrate
10 years of Crimes and Treasons!
Join us at the 10 year party (event details) in the Livestock Room at Fortune Sound Club this Friday, October 19 with Relly Rels, Jules Andre Brown, Brendan Butter & Rico Uno.  We're giving away limited edition mix cds and buttons!
Listen back to all the podcasts over the years.  Hip Hop on the radio in Vancouver as strong as ever.