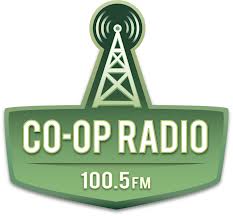 Vancouver Co-op Radio is hosting it's 100.5 FM Frequency Launch Party Saturday September, 8 at The Wise Hall.
This new frequency will give them a stronger signal, helping them broadcast the same great local, community-driven, and diverse programming to an even larger audience. This event is a great opportunity to meet some of your favourite Vancouver Co-op Radio hosts, interact with station fans, and hear great live music by talented artists like Jasper Sloan Yip, The Oh Wells and Murray Porter.
The Details:
Where: The Wise Hall – 1882 Adanac St. Vancouver BC
When: Saturday, September 8, 7PM – 12AM
What:  Local musicians  performing original songs to celebrate Vancouver Co-op Radio's move   to 100.5FM and community sponsors
Tickets: $7 for the public and by donation for Vancouver Co-op Radio members.
Tickets are available at the door on the day of the event. If someone cannot afford a ticket, they will not be turned away.
Musician Bios:
Murray Porter is a blues musician hailing from the Mohawk Six Nations tribe of Grand River Ontario.  Murray describes his music as "the Aboriginal side of history with a mixture of country, blues and humour." He won the 2012 JUNO Award for "Aboriginal Album of the Year," and has opened for artists like B.B. King, Derek Miller, The Funk Brothers, and the Etta James.

The Oh Wells are an up-tempo, fun-loving danceaholics wet dream. Fronted by leading lady Sarah Jickling, The Oh Wells unique brand of energetic indie pop has been known to turn an apathetic concert goer into a regular 1930's swing kid. The band recently completed their first cross Canada tour, are in the midst of producing their first music video and are working on a follow up album to their critically acclaimed EP, "Not That Girl From Transformers."

Jasper Sloan Yip's indie-folk styling tell the story of an introverted, existential East Vancouver musician. After the release of his 2007 album White Elephant, Jasper went on a 10-month soul excursion around Europe in search of adventure and self-discovery. He returned home with a renewed commitment to music and an arsenal of songs he eventually crafted into his 2010 sophomore album, "Everyday And All At Once."  The success of the album helped Jasper build an impressive musical resume. Significant achievements include his performance at the 2011 Vancouver International Jazz Festival which attracted thousands of spectators,     and his selection as a Peak Performance Project top 20 finalist, besting over 350 other B.C. artists applicants.
Come check out these amazing acts and support the new home of Vancouver Co Op 100.5Fm!