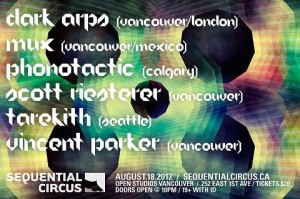 Do you believe live electronic music still exists?
So do we! Sequential Circus, going down on Saturday August 18, is the eleventh incarnation of Vancouver's premier 100% live electronic music event. Each set at Sequential Circus will be unique, engaging, and performed live before your very eyes. There will be no fake button pushing, no unplugged gear, and no auto-mixed DJ sets—in fact, there will be no DJ sets at all; just awesome live performances from local, national and international artists.
Artists include Vancouver's Dark Arps, Mux, Vincent Parker and Scott Riesterer, as well as Calgary's PhonoTactic and Seattle's Tarekith.
Sequential Circus 11 runs from 10pm-3am Saturday, August 18th at Open Studios, 252 East 1st Avenue. Tickets are $20 at the door only. 19+.