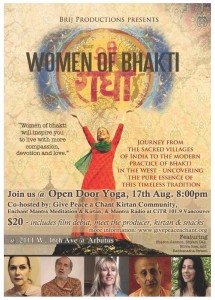 CiTR and Mantra Radio present: the Canadian premiere of Women of Bhakti, a new film by Jahnava Harrison.
Women of Bhakti is a documentary film about women in the bhakti (devotional) tradition – featuring compelling interviews with scholars, sadhus, and modern day yoginis who share gems of wisdom about the transformational power of bhakti.
Friday August 17th 2012 – 8pm
Open Door Yoga – 2111 W 16th Ave @ Arbutus
Tickets $20 – Includes Film Debut, Meet the Producer, Snacks and Kirtan.
Limited capacity – Advance tickets are available – email sandra@givepeaceachant.org or go to givepeaceachant.org.
Presented by CiTR 101.9fm, Mantra Radio, EnChant and Give Peace a Chant kirtan communities.