On Today's Show…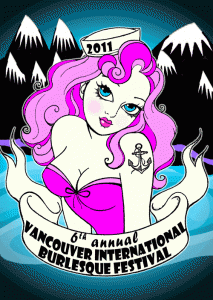 Vancouver International Burlesque Festival: Crystal Precious
As one of Canadian's trailblazers in reviving the Burlesque movement, Crystal Precious is one of the hosts at this year's Vancouver International Burlesque Festival that runs from May 5th – 7th. With a fabulous background in dance and theatre, she began on Vancouver's stumbling neo-burlesque stage in 2002 and has metamorphosed her act into a burlesque and hip hop MC with lyrically quick rhymes sequined with glamourous coquette-ish tease. She joins us today to talk about the festival!
From May 5th – 7th at the Vogue and Rickshaw, get more info on the performances here.
The You Show
A show that intermingles original music with writing and rich visual design, 'The You Show' features nine performers that exhibit the importance of the body and its actions to illustrate the typical narratives of love, conflict and loss. As people say, actions speak louder than words and that is certainly true in 'The You Show', a collection of four new works by Crystal Pite that includes: A Picture of You Falling, The Other You, Das Glashaus and A Picture of You Flying.
At The Cultch from May 10th – 14th at 8PM at the Historic Theatre, for more details check it out here!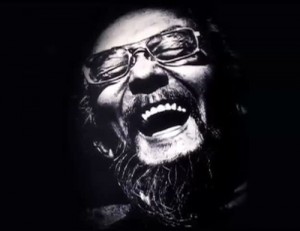 DOXA- Reed: The Life and Works of Roy Kiyooka
As the Documentary Film Festival (DOXA) rolls around again from May 6th -15th, we have a feature with Fumiko Kiyooka, the director of 'Reed' and the daughter of Roy Kiyooka. The documentary illustrates the poignancy and power of Roy Kiyooka's work as a painter, poet and musician through his role as the frontrunner of artistic and social movements of his time. The perceptive interviews with various Canadian artists and writers like Michael Ondaatje, Joy Kogawa, Margaret Atwood and Daphne Marlatt along with faithful representations of his emotional difficulties and expertise in his life provides a stunning view into his life.
Playing on May 12th at Vancity Theatre at 7PM, for tickets and other documentaries click here!
30:Live is 30!
In celebration of the launch of their official website and booking agency, 30:Live and Green Couch Sessions presents 30:Live is 30 as a musical extravanganza and a fundraiser. Many local bands will be playing such as The British Columbians, Free City Collective and Young Pacific!
On May 6th at 8PM at The Forum, there's only a few tickets left so click here for more info!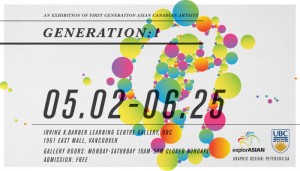 Generation 1
A free arts exhibition featuring various Asian artists from around the world and across generations, Generation 1 aims to facilitate communication between the generations. The first showing from May 2nd – Jun 5th will display pieces from Dimasalang III group and UBC's Visual Art students. With a particular focus on the first generation Asian – Canadian artists, a chance is given to new emerging artists to submit their pieces for the second showing of art from Jun. 6th – Jun 25th. To submit your art piece before May 15th, click here for the application.
Showing from May 2nd – Jun 25th, at the Irving Barber Centre at UBC along the main hallway.
Listen in today at 5PM.
Subscribe to the Arts Report podcast.
Hear past interviews on YouTube!
Follow us on Twitter.
Like us on Facebook!