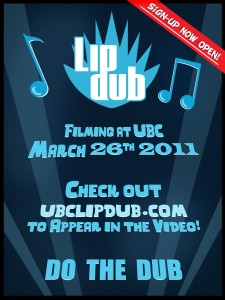 On Saturday March 26, 2011, over one thousand university students, high-school students, and community members are coming together to rock out and show off their special skills — all while lip-synching the words to Pink's "Raise Your Glass" and Marianas Trench's* "Celebrity Status" (*possible guest appearance).
This event is called UBC LipDub. Filmed on the Vancouver UBC Campus on from 12:00pm – 7:00pm.
What is a LipDub?
LipDub is a style of YouTube video with a tendency of going viral.
A huge group of students and community members rockin' out to an awesome song for a day.
This will all be filmed in a single shot.
Why has UBC decided to do a LipDub?
Bring together students to interact with peers they likely never would have met.
Promote UBC globally, while strengthening the bond with our community locally.
Raise some serious coin for charity by collecting pledges from companies and organizations.
The LipDub will be filmed on March 26 from 12pm-7pm, but if you would like to participate SIGN UP HERE.
For more information about UBC LipDub, check out the website.