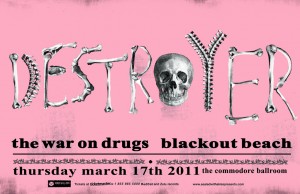 This THURSDAY, MARCH 17th, CiTR is a proud sponsor of DESTROYER at the COMMODORE BALLROOM.
On tour with his latest album Kaputt, the Vancouver native will be playing alongside guests THE WAR ON DRUGS and BLACKOUT BEACH.
Doors at 8PM.
Tickets $20 in advance from Red Cat, Zulu or Ticketmaster.
Brought to you by SWAK.