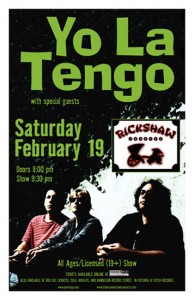 This SAT, FEB 19th, in conjunction with Timbre, CiTR is proud to sponsor YO LA TENGO at the RICKSHAW!
The American indie legends are returning to Vancouver on their "Spin the Wheel" concept tour; in which their set is determined by one audience member and a giant gameshow wheel. Come on down!
Doors at 8PM, show at 9PM.
Tickets $22.50 in advance at Red Cat, Scratch, Highlife and Ditch (Vicoria).