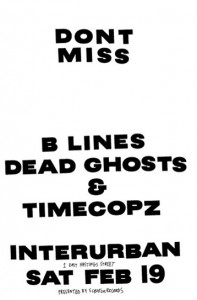 This SAT, FEB 19th CiTR is proud to sponsor a night of local punk presented by SCRATCH RECORDS at the INTERURBAN GALLERY!
B-LINES, DEAD GHOSTS and TIMECOPZ will be playing alongside "SPILLAGE, THEFT AND ROCK & ROLL" , ongoing art installations by Jeffery Lee and Ryan Walter Wagoner.
Doors at 9PM, bands at 10PM.
$8.
For more info check out the FACEBOOK EVENT.