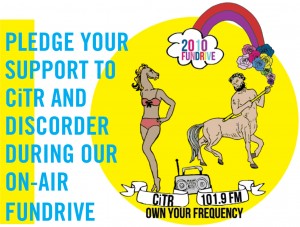 From November 16th – 25th, CiTR DJs will take to the airwaves asking dedicated listeners to call 604 822 8648 and pledge their support towards our goal of $30,000! This ten day event will raise necessary funds to cover operating expenses, equipment purchases, and most importantly – a new digital library for the station.
Call 604 822-8648 between November 16th – November 25th to pledge!
Visit citr.ca/donate to donate online.
Join us at the Biltmore Cabaret on Thursday, November 25 for our Fundrive Finale, celebrating the contributions of donors with special musical guests. We'll be having 10 local bands playing your favourite 90's throwback tunes. Tickets are $12 in advance at Zulu, Red Cat and CiTR, and $15 at the door. Doors open at 8pm, bands on at 9pm.
Thank you to Michaela Davies for this year's Fundrive design!