I must admit, I was a little nervous to meet Katayoon. With a CV boasting 10 music videos, being a member of noise rock band Puzzlehead — an amorphous rock cosplay, with over 25 members across North America — and most recently, the September Artist-In-Residence at Warm Notice, it was difficult to not be overwhelmed by her clear passion and obvious artistic talent. In the half-hour that I spoke to her, I was blown away by her humble and thoughtful nature, as well as her vision and ambition for Puzzlehead. Her artistic approach to music has changed the way I think about composition, and the impact that music can have. 
Katayoon spent about 7-8 years in the Vancouver music scene, playing in various bands, working at a record store and being involved in event promotion for herself and the Red Gate Arts Society. With years of experience touring and booking gigs, she found herself wanting to start a project that would allow her to hone her songwriting skills, one that would allow her to write and record song ideas as they came up. This venture was not without difficulties — in its infancy, member turnovers were frequent and Katayoon soon found herself interested in how new members would interpret and play the same riffs differently. She started to incorporate this into her songwriting, by making structures and riffs more ambiguous.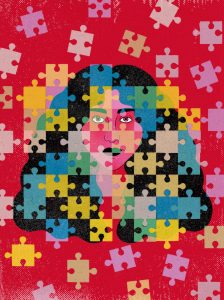 According to Katayoon, this opened up the conceptual side of Puzzlehead, as she started approaching writing songs by "thinking about how it would sound when this person would play this […] and what combinations of people would make for an interesting sound and structure, and how would that sound if another combination of people played it." With the collaborative nature of the instrumentals, the many-membered contributions accumulated to create a big and complete rock sound, one that marries melodic passages with multiple harmonies from the guitars and basses.
Puzzlehead's debut album, Big Sniff, was written by Katayoon alongside the Montreal version of Puzzlehead. Although iterations of the band exist here in Vancouver, and as far as Olympia, Katayoon was writing and playing shows in Montreal at the time and decided to record the album alongside that version of the band. The album is a "rock concept album" that combines elements of cock rock, psychedelic rock, garage rock and even hardcore punk. The album was inspired by what  Katayoon was listening to at the time — Led Zeppelin, Red Cross and Royal Trux — as well as all the bands she had formerly played in.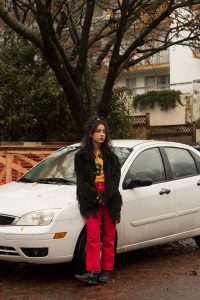 This is all part of Katayoon's goal for Puzzlehead. She is looking to franchise the band by creating iterations of Puzzlehead across North America, that will play Puzzlehead songs, either with Katayoon, or on their own. The project will allow for different versions of Puzzlehead to interpret and perform the songs written by Katayoon in their own way, giving each version a distinct sonic flavour, while playing with the same ingredients. Katayoon is hoping to start iterations of the band across North America and abroad, with Japan and Russia being two countries she mentioned in particular.
With the ambition to spread rock music across the globe, Puzzlehead and Katayoon are going to give rock a big kick — changing the conventions of how we make and share music, and I for one, can't wait to see Puzzlehead do this.